A painless, scar-free biopsy method offers a less invasive approach to collecting skin samples for the diagnosis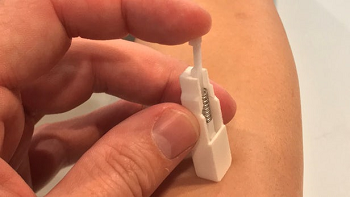 Source: Tarl Prow, University of South Australiaof cancer and other diseases. The microbiopsy needle designed at the University of South Australia can take 100-200 cells and eliminate the current practice of sampling a 2-3 cm section of tissue.
The device is half a millimeter wide, and the piece of skin collected is about 0.15 mm wide and 0.4 mm deep. Consider that the finger prick needles used by diabetics are inserted to a depth of up to 4 mm. The new procedure is also less painful than a regular biopsy, so local anesthesia could be reduced or done away with. The microbiopsy needle speeds the procedure, allowing more tests to be performed.
Researchers from Israel's Hebrew University successfully field-tested the needle system in Ethiopia, and the original design team is now developing skin cancer biomarkers to help clinicians rapidly return diagnostic results.
Non-skin cancer-related clinical trials are in the final stages as the researchers prepare for a 2023 launch of the approved diagnostic test.