These cities lead the US in solar energy
S. Himmelstein | May 17, 2022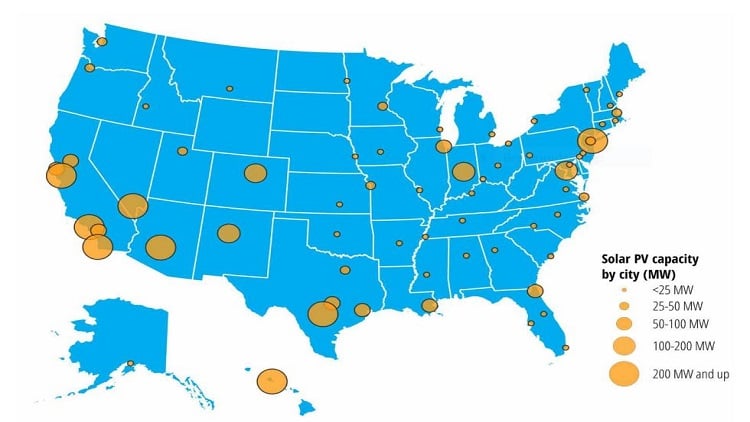 Major U.S. cities by total installed solar photovoltaic capacity, end of 2021 (MW). Source: Environment America Research & Policy Center
The solar power capacity in nine U.S. cities exceeds that installed nationwide 10 years ago.
Data tracked through December 2021 by researchers from Environment America Research & Policy Center and Frontier Group shows that the U.S. now has 121.4 GW of solar photovoltaic capacity installed, sufficient to power more than 23 million homes. A tenfold increase in solar capacity was achieved by 15 cities between 2014 and 2022.
Honolulu leads the U.S. for solar power per person among cities surveyed, followed by Las Vegas, San Diego, Albuquerque and San Jose.
The importance of pro-solar policies like net-energy metering, a program that credits solar owners for the clean electricity they deliver back to the power grid, is emphasized. Other relevant policies that should be pursued include establishing goals for 100% renewable energy and creating roadmaps and programs to meet those goals. State and local governments are urged to adopt solar automated permit processing (SolarAPP+), a fast, automated online permitting system developed by the U.S. Department of Energy and available free of charge for local governments. The federal sector is advised to continue and expand financing support for solar energy, particularly the Solar Investment Tax Credit, which currently provides a 26% tax credit for the cost of installing solar panels.
Access the report to discover the top cities for solar per capita and for total solar capacity.