Fighting 'Microfiber' Pollution Begins in the Laundry Room
Marie Donlon | March 06, 2018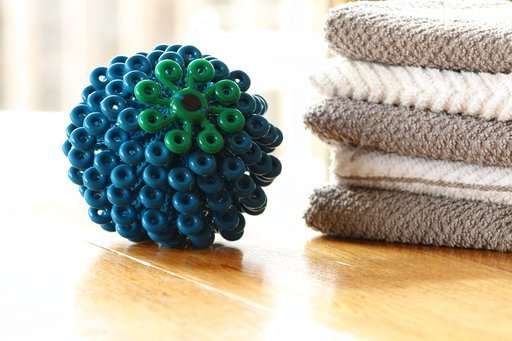 The Cora Ball is a product developed by a nonprofit group called Rozalia Project that seeks to cut down on small threads that enter waterways when people do laundry. The group says the ball could cut down on this kind of pollution by more than 25 percent. Source: Megan Bender/Cora Ball via APAs concerns for microbead (the tiny plastic particles found in many a household product) pollution mount, environmental scientists are now turning their attention to another pollutant that is likely following in the microbead's footsteps straight into the ocean.
Much like microbeads, tiny pieces of thread expelled from the washing machine are too small to be filtered and thus pass through sewage plants and into the waterways where they are eventually consumed by marine life.
While little is known about the impact of "microfibers" on the environment, marine life and humans, there is little doubt the microfibers are indeed making it into the environment, according to Chelsea Rochman, an ecology professor at the University of Toronto, who plans to conduct a study on the topic at the end of the year.
One previous study suggests that microfibers make up 85 percent of man-made shoreline debris while another study determined that more than a gram of microfiber is released each time a synthetic jacket is washed, with 40 percent of those microfibers eventually reaching our waterways.
As such, a number of products are now on the market to combat the buildup of these "microfibers" in the wash, including Guppyfriend (which is a polyamide washing bag that prevents the microfibers from escaping) and Cora Ball (which is a ball that traps washing machine microfibers in appendages designed to look like coral).
"We are learning more and more every day about the risk that microfibers and microplastics have in our aquatic habitats and wildlife species," said Kirsten Kapp, a biology professor at Central Wyoming College, who has studied microfiber pollution on the Snake River in the Pacific Northwest. "I think it's something people should be aware of."