Bridging the Corrosion Management Knowledge Gap
February 07, 2018
Sponsored Content
Sponsored content
Corrosion management through corrosion prevention and control standards is an important safety and economic issue for many industries, including oil and gas production, chemical processing, aerospace, infrastructure, waste management and many others. Proper corrosion management increases the usable life and safety of materials while decreasing the chance of failure and accidents. Corrosion management is a specialized field that requires extensive industry-specific experience in developing policies, strategies, objectives and meaningful metrics.
The Gap
Senior corrosion engineers have decades of corrosion management knowledge obtained through training, management interactions and field experience. An age distribution of the NACE International indicates that only approximately 20 percent of members are 40 years of age or younger and almost 50 percent are 51 years of age or older. This means that as these older engineers retire, there is a risk of a large amount of this knowledge being lost. It is essential then to educate and train younger corrosion engineers in corrosion management in order to bridge this impending knowledge gap.
The Cost of Corrosion
Corrosion control helps protect and extend the lifecycle of critical infrastructure and assets. If corrosion control is not adequately maintained, damage can occur quickly and costly failures will inevitably result. In 2002 the U.S. Federal Highway Administration (FHWA), in a study of metallic corrosion in a wide range of industries, showed that the total annual estimated direct cost of corrosion in the U.S. was $276 billion. Aging infrastructure since that time has only added to those costs. It is simply not enough to periodically check assets for corrosion, as a systematic approach is required.
In recent years, the number of corrosion failures in onshore and offshore pipelines has steadily decreased due to the introduction of new corrosion management strategies by pipeline operators. A vital component of this effective corrosion management program has been tracking changes in corrosion depth and monitoring corrosion growth rate. Using this information along with knowledge of material properties and reliability methodologies, the probability of pipeline failure can be established as a function of time. This deeper understanding of corrosion due to effective corrosion management has saved the industry millions.
Corrosion management systems (CMSs) such as the one described above can be very effective if implemented correctly. Neglecting corrosion control can lead to unsafe conditions and severe financial consequences. Unfortunately, CMSs require upfront capital for savings later on. This sort of approach requires long-term buy-in from the organization as a whole. It is therefore essential that an organization must commit to ownership of the CMSs and processes.
Organizational Commitment
Top-down organizational commitment ensures that corrosion management projects will move forward and garner resources. To ensure that the message is effective, organizations require a business case that includes a clear statement of the problem, outlines its impact on the organization, lists the required resources and includes the outcome in terms of cost reductions, increased productivity or improved quality. Essentially, CMSs should be approached as a pyramid where management develops policy, strategy, objectives, controls and measures, while in-field employees develop plans, procedures and working practices. This approach institutionalizes corrosion management, greatly increasing its ability to deliver cost savings and extended asset life in the future.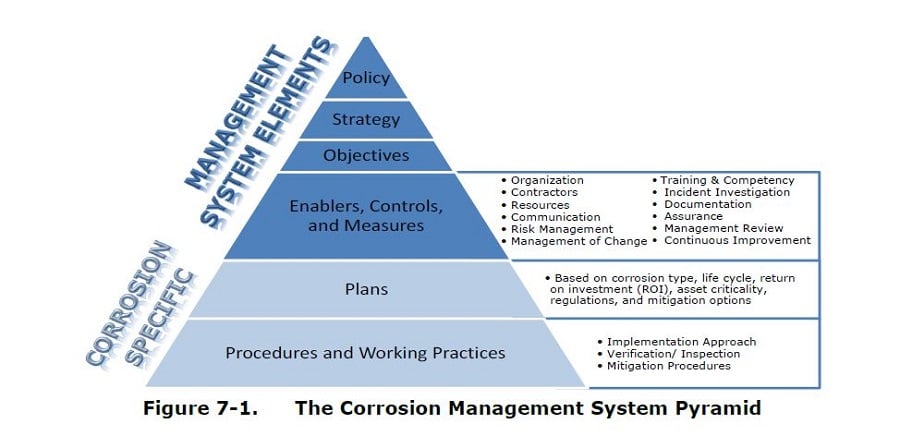 Figure 1: The Corrosion Management System Pyramid. Source: NACE International
CMSs require certain features to operate efficiently. It is important that a common language on corrosion is understood throughout all levels of an organization. This prevents policies, strategies and objectives from clashing with plans, procedures and measures. Another necessary feature is core competency training. Organizations will often feature in-house universities or course reimbursement for materials science, chemistry, electrochemistry and other corrosion-related courses.
Focus on Corrosion Management
Core competency training makes sense, but it is important to recognize that it is focused on the science and technology of corrosion processes, mitigation and control rather than on corrosion management. Thus, core competencies only address the base of the pyramid (the bottom two layers). The looming knowledge gap affects all levels of the corrosion management pyramid and it needs to be addressed. Effective transfer of institutional knowledge featuring on-the-job training and mentoring programs are a good start.
Additionally, specialized corrosion management courses and tools are essential as a supplement. One such tool, NACE's IMPACT PLUS is designed to advance corrosion management performance across all sectors. IMPACT PLUS is an online network of tools that includes a customized corrosion management process classification framework, a corrosion management maturity model and an extensive reference library.
Focused on safety and performance, IMPACT PLUS is a straightforward way to identify gaps that lead to human error, diminished asset integrity and shorter asset life. It offers an interactive corrosion management portal and reference library to manage knowledge, information, and best practices. IMPACT PLUS can serve as an important bridge of the knowledge gap in corrosion management.
Summary
CMSs are an effective approach to improving the safety and longevity of assets. The age demographics of corrosion engineers indicate that there is a very real risk of losing critical corrosion management knowledge as older engineers retire over the next decade. It is essential to understand that corrosion management systems require more than just core competency knowledge, and that corrosion management training and mentorships are required to preserve effective corrosion management systems for the next generation. For more information, visit https://www.nace.org.