Robot Barista Debuts at Japanese Cafe
Marie Donlon | February 05, 2018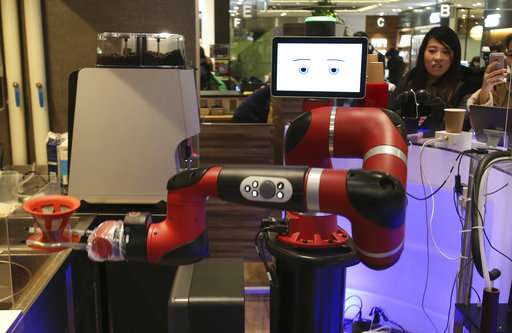 A robot barista named "Sawyer" makes a coffee at Henna Café in Tokyo on Friday, Feb. 2, 2018. The cafe's robot barista brews and serves coffee as the rapidly aging country seeks to adapt to shrinking workforce. Source: AP Photo/Koji SasaharaJoining an ever-growing list of robots capable of performing tasks such as bartending and cleaning homes is a robot barista capable of both brewing and serving coffee to customers in a Japanese cafe.
The one-armed robot — called Sawyer — debuted last week at Henna Café in Tokyo where it accepts vending machine tickets purchased by costumers. After scanning the ticket, the robot greets the customer and asks, "Would you care for a delicious coffee?"
By way of convincing the customer, the robot also adds, "I can make one better than human beings around here."
Capable of grinding, filtering and pouring coffee for up to five people at once, the robot can also operate an automated machine for six other beverages such as green tea latte, cappuccino and hot chocolate.
Serving a two-fold function of entertaining customers while increasing productivity, the café's operator, travel agency H.I.S. Co., says that only one person is necessary to oversee the entire café.
A cup of coffee at the robot café will cost you $3 (320 yen).