Computer Models Used to Discover How to Kill Deadly Bacteria Spores
Electronics360 News Desk | February 01, 2018
Bacteria are a major threat to human life. They cause many different diseases, from food poisoning to strep throat to anthrax. Despite studying bacteria for years researchers have been unable to figure out exactly how bacteria adapt to threatening environments. But researchers from USC Viterbi School of Engineering have finally figured out bacteria behaviors using computer models.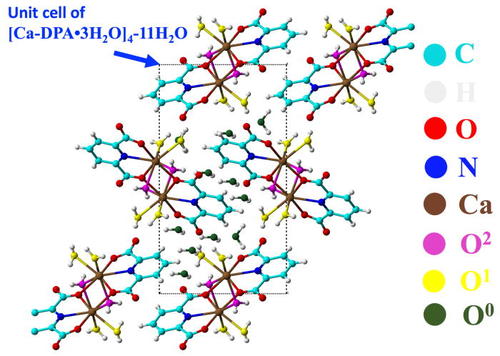 Configuration of [Ca-DPA·3H2O]4 + 11H2O (water content of 33.5 wt. % H2O), prepared from [Ca-DPA·3H2O]4 by adding 11 additional water molecules to the unit cell (outlined in black). O1 (in yellow) and O2 (in magenta) are O atoms of singly and doubly coordinated water molecules with calcium of Ca-DPA, respectively, and O0 (in green) is the oxygen atom of the added water molecules. Source: Applied Physics
Priya Vashishta, Rajiv K.Kalia and Aiichiro Nakano from USC used their computer-based models to decode the strategies that bacteria spores use to survive attacks in all environments, from extreme temperatures to radiation. They used the computer models to study bacteria spores at a molecular level. By watching the spores closely, they were able to identify the exact conditions that are needed to kill the bacteria. There have been methods that were successful in killing the bacteria, but there has not yet been a method developed that can kill bacteria spores.
According to Vashishta, spores have a hard covering so they can survive in any conditions. In freezing conditions, the coating protects the spore until it finds the correct conditions to develop into complete bacteria. Researchers wanted to figure out if bacteria-killing methods can somehow also be successful in killing bacteria spores in the right conditions, but it has been difficult.
As part of the research, the team used x-ray crystallography data to figure out what the key elements of a single bacterium are. They found that a bacterium is made out of water, acid and a calcium ion. After discovering this, a supercomputer ran thousands of simulations ranging in a percentage of acid, water and calcium, to see what happens and if one of these methods could be used to kill the bacteria. The supercomputer simulations showed that temperature and water concentration affects the way that bacteria behave. These elements can cause the bacterium to turn solid, gas or liquid.
"Our models showed the spores perform a kind of chemical magic trick to intentionally freezes themselves and immobilize the water in their cells," says Nakano. "The frozen cells cannot be disturbed by any radiation or chemical process and it also protects the DNA, so the spores can continue to reproduce."
After discovering this magic trick, the researchers were able to develop the perfect combination of heat and moisture to defrost the water inside of a bacterium cell, weakening the cell, ridding it of its protective barrier and allowing it to be destroyed easier.
The computer models determined that between 90-95 degrees Celsius and a water concentration above 30 percent are the ideal conditions to destroy a bacteria spore. This method can be used to rid food processing equipment of bacteria as well as limiting disease spread.
A paper on this research was published in Applied Physics Letters.