New Catalyst for Recycling Carbon Dioxide
S. Himmelstein | January 17, 2018
The development of an efficient carbon dioxide reduction electrocatalyst offers enhanced scope for converting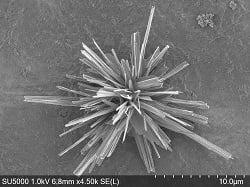 The surface of a nanostructured copper catalyst that converts carbon dioxide into ethylene. Source: Canadian Light Sourcethis greenhouse gas into value-added chemicals and fuels.
The novel process involves the electro-redeposition of copper from a sol–gel precursor. Copper was selected for the production of ethylene, the core component of polyethylene plastic. The international research team designed the catalyst and defined ideal conditions to maximize ethylene production while minimizing the methane output. Paired with carbon capture technology, this could lead to an incredibly green production mechanism for everyday plastics and sequestration of CO2.
In situ soft X-ray absorption spectroscopy was used to track the reduction of copper, revealing the ratio of copper species under different applied potentials.
Scientists from the Canadian Institute for Advanced Research, University of Toronto, University of California-Berkeley, Canadian Light Source Inc. and Lawrence Berkeley National Laboratory participated in this project.
The research is published in the journal Nature Catalysis.