Efficient Electrochemical Conversion of CO2 to Ethylene Achieved
John Simpson | August 04, 2016
Researchers have discovered a catalyst that performs highly selective conversion of the greenhouse gas carbon dioxide into ethylene—an important source material for the chemical industry.
Catalysts used for the electrochemical conversion of carbon dioxide into useful chemicals traditionally have not been efficient enough. The reason is that the materials do not have high selectivity; they produce a modest amount of ethylene accompanied by too many unwanted by-products.
A team headed by Professor Beatriz Roldan Cuenya, from Ruhr-Universität Bochum, in Germany, has now successfully used copper films treated with oxygen or hydrogen plasmas as catalysts. The plasma treatments alter the properties of the copper surface—rendering it rougher or less rough, for example—and oxidize the material. The researchers varied the plasma parameters systematically until arriving at the optimal surface properties.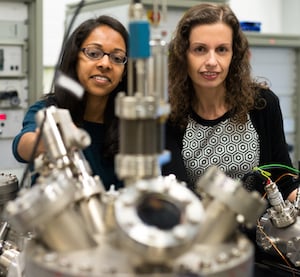 PhD student Hemma Mistry (l) and Ruhr-Universität Bochum Professor Beatriz Roldan Cuenya are researching new catalysts that convert carbon dioxide into ethylene. Image credit: ©RUB, Kramer. Their best catalyst boasts a higher ethylene production rate than traditional copper catalysts. At the same time, it acts in a highly selective manner, which means that the amount of unwanted by-products is reduced considerably.
"It's a new record for this material," Cuenya says.
The researchers also identified the reason behind the success of this form of plasma treatment. Using synchrotron radiation, they measured and analyzed the copper film's chemical state during the catalysis of the reaction. The key component in the higher ethylene selectivity was determined to be the positively charged copper ions at the catalyst surface.
It had previously been assumed that copper can exist in its metallic form only under reaction conditions. The researchers' discovery has now disproved this assumption, and their findings were confirmed by additional microscopic analysis.
"The results open up new possibilities for designing catalysts on the nanoscale with specific activity and selectivity," says Cuenya.