Selective Conversion of CO2 to Multi-Carbon Fuels
S. Himmelstein | August 08, 2017
California Institute of Technology researchers are paving a new path to the production of multi-carbon liquid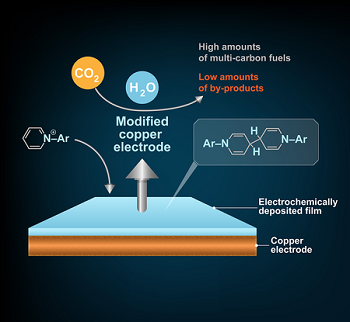 Illustration of the process used to convert carbon dioxide into multi-carbon fuel products. Image credit: Caltechtransportation fuels by use of solar energy, water and carbon dioxide.
An organic additive was identified that rendered the reaction highly selective for the more desirable fuels that contain multiple carbons—such as ethylene, ethanol and propanol. Methane and hydrogen are typically the major by-products in reactions involving CO2, but the team observed an 80 percent conversion to multi-carbon fuel products, with only 20 percent or so going into hydrogen and methane.
The reaction process used an aqueous solution and a copper electrode, which served as both a catalyst and energy source in place of the sun. CO2 was added to the solution along with a class of organic molecules called N-substituted arylpyridiniums, which formed a very thin deposit on the electrode.
This film markedly improved the fuel-making reaction, selectively producing the desirable chemicals ethanol, ethylene and propanol. The researchers don't fully understand as of yet how the additives enhance the reaction.