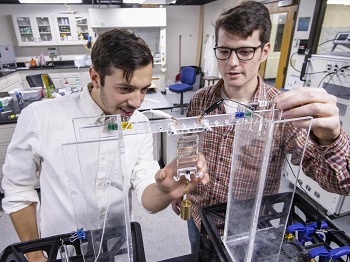 University of Colorado Boulder graduate students examine a soft robotic material. Source: University of Colorado Boulder
A research team from the University of Colorado Boulder has developed a self-healing robotic actuator that behaves like a human muscle.
The team published their research in the journals Science and Science Robotics, describing a hydraulically amplified self-healing electrostatic (HASEL) actuator. The device combines the best of electrostatic and hydraulic actuators. Because the actuators use a liquid dielectric, they can self-heal after dielectric breakdown. The liquid dielectric also allows the devices to mimic muscle-like contractions for powerful but delicate robotic motions.
"We draw our inspiration from the astonishing capabilities of biological muscle," said Christoph Keplinger, senior author of both papers and an assistant professor in the department of mechanical engineering and a fellow of the materials science and engineering program.
"HASEL actuators synergize the strengths of soft fluidic and soft electrostatic actuators, and thus combine versatility and performance like no other artificial muscle before. Just like biological muscle, HASEL actuators can reproduce the adaptability of an octopus arm, the speed of a hummingbird and the strength of an elephant," Keplinger added.
The team developed several prototype actuators, including a doughnut-shaped elastomer shell filled with a liquid dielectric (such as canola oil) and hooked up to a pair of opposing electrodes. When voltage is applied, the liquid is displaced and drives shape-change of the soft shell. The researchers positioned several of these actuators opposite of one another and achieved a gripping effect upon electrical activation. When voltage is turned off, the grip releases.
Another design was able to lift a suspended gallon of water and flex a mechanical arm holding a baseball. The team is aware that the voltage requirements for HASEL actuators may keep them from widespread use for some time.
"These demonstrations show the exciting potential for HASEL," said Eric Acome, a doctoral student in the Keplinger group and the lead author of the Science paper. "The high voltage required for operation is a challenge for moving forward. However, we are already working on solving that problem and have designed devices in the lab that operate with a fifth of the voltage used in this paper."