Toyota Seeks to Simplify via a Global Platform for Future Vehicles
Engineering360 News Desk | March 27, 2015
Toyota unveiled its Toyota New Global Architecture (TNGA)—a lineup of "lighter, more compact" components that will be used for a new generation of vehicles, reports AutoCar Professional. The automaker's intent is to simplify its global model range; TNGA covers front- and rear-wheel drive and a "much higher efficiency" powertrain family.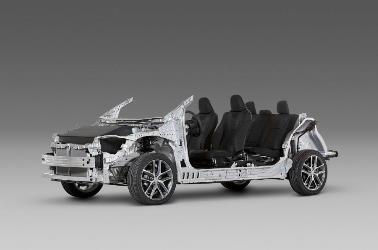 As many as 50% of Toyotas will be based on the new design. Source: ToyotaBy 2020, as many as 50% of Toyota cars will be based on the new design, reports say. This will offer a huge cost saving and reduction in complexity for Toyota, which says it currently has around "100 platforms and sub-platforms" and around 800 engines, due to different emissions regulations and way the units are mounted in a particular platform.
The Japanese carmaker also promises improved handling and says the TNGA structures will feed into a better ride, as well as improved crash safety.
The TNGA engines are reported to be "much more" thermally efficient, offering around 15% more power and, in conjunction with more efficient automatic and CVT transmissions, offer as much as 25% better fuel economy. Toyota claims that the powertrain bundled with TNGA is 15% more economical than Toyota's current hybrid models.
The first TNGA-based car will be a "front-drive, medium-size model" launched later this year. Although Toyota officials declined to give further details, the TNGA architecture on display at its Honsha facility was Auris-sized and included independent rear suspension.