Toyota Plans New Manufacturing Plants in Mexico and China
Engineering360 News Desk | April 17, 2015
Toyota Motor Corp. says it will build new factories in Mexico and China, ending a self-imposed expansion freeze. The announcement comes amid a flurry of new auto investments in Mexico, as car makers are drawn to its low labor costs, free trade agreements and proximity to the United States. The news was reported by Reuters.
The $1 billion plant will have an annual capacity of 200,000 cars in the central Mexican state of Guanajuato and employ about 2,000 workers.
(Mike Wall, director of analytics for IHS Automotive, talks about automakers' investment in North America and China and offers manufacturing forecasts in this April 16 webinar from Engineering360.)
Since December 2012, when Mexican President Enrique Peña Nieto took office, auto investments have reached more than $20 billion, Mexico's Secretary of the Economy Ildefonso Guajardo Villarreal says.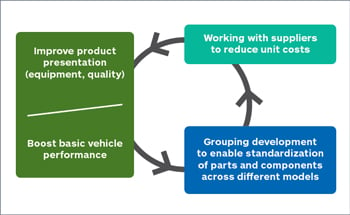 Toyota's approach to carmaking. Source: ToyotaThe Mexican plant will be the first built from the ground up under the Toyota New Global Architecture strategy—the automaker's approach to engineering and building vehicles—Jim Lentz, head of Toyota's North American operations, was quoted as saying in an interview.
In China, Toyota says it will spend about 52.5 billion yen ($440 million) to add a new facility and a third line at its factory in Guangzhou, owned jointly with Guangzhou Automobile Group Co Ltd. The line could start production in 2017 with capacity to make about 100,000 cars a year.
Toyota says it is now using about 90% of its total manufacturing capacity compared with about 70% in 2009.