Rapid disease diagnosis possible with portable dopamine detector
S. Himmelstein | March 22, 2019
Measurement of dopamine concentrations in blood can serve as a biomarker for different diseases, including certain cancers, depression and Parkinson's. A portable measurement tool devised at University of Central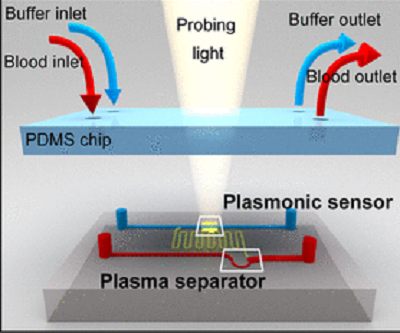 The portable, enzyme-free dopamine detector requires a few drops of blood and returns results in minutes. Source: University of Central FloridaFlorida could enable clinicians to dispense with the time-consuming plasma separation and analysis processes dependent on access to complex laboratory equipment.
In addition to simplifying dopamine assays, the plasmonic neurotransmitter dopamine biosensor integrated with a microfluidic plasma separator returns results in minutes instead of hours. The device allows in-line separation of plasma directly from the bloodstream and channels it to the active detection area. Inorganic cerium oxide nanoparticles function as local selective dopamine binding sites through strong surface redox reactions.
The detection selectivity of the enzyme-free platform incorporating altered cerium oxide nanostructures was demonstrated to be superior to that of other analytical systems. The technology could eventually be deployed for point-of-care applications.