Plastic Waste Ensnaring, Killing Marine Turtles
Marie Donlon | December 12, 2017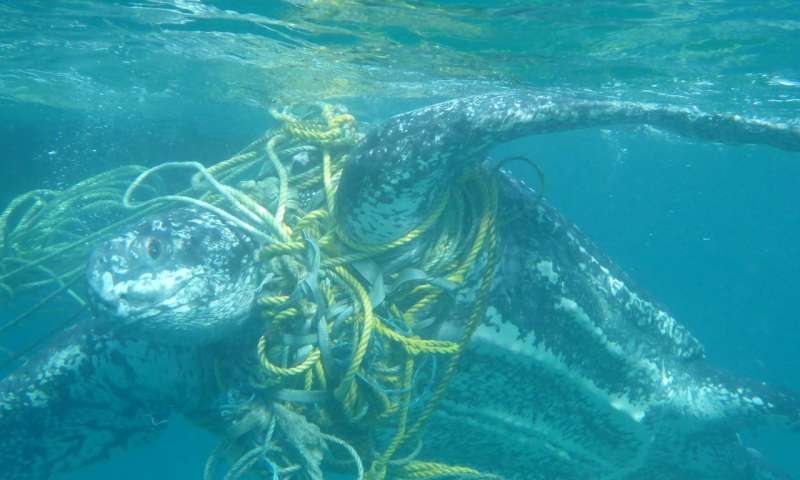 Live leatherback turtle entangled in fishing ropes, which increases drag, Grenada 2014. Source: Kate Charles, Ocean Spirits
According to a University of Exeter study, hundreds of marine turtles are dying each year thanks to plastic waste making its way into oceans and onto beaches.
Based on data obtained from a worldwide survey conducted by University of Exeter researchers, of the turtles found ensnared in plastic waste, 91 percent were dead. In other cases, the turtles experienced injuries such as maiming and amputation.
Among the debris littering beaches and the ocean are lost fishing nets, six-pack plastic beverage carrier rings, plastic and nylon fishing lines, kite string, plastic packaging and more.
And the problem is only expected to worsen, according to researchers, as plastic pollution increases.
Based on the worldwide survey results, researchers believe that the number of turtles expected to die due to plastic entanglement will grow to over 1,000 a year.
Yet, other researchers believe that number needs to be increased to consider, in addition to the worldwide data, the number of turtles that aren't actually counted because they don't wash ashore, often decaying at sea.
According to Professor Brendan Godley, professor of conservation science and director of the Centre for Ecology & Conservation at the University of Exeter's Penryn campus and the study's lead author:
"Plastic rubbish in the oceans, including lost or discarded fishing gear, which is not biodegradable, is a major threat to marine turtles. We found, based on beach strandings, that more than 1,000 turtles are dying a year after becoming tangled up, but this is almost certainly a gross underestimate. Young turtles and hatchlings are particularly vulnerable to entanglement," he said.
Professor Godley continued: "Experts we surveyed found that entanglement in plastic and other pollution could pose a long term impact on the survival of some turtle populations and is a greater threat to them than oil spills. We need to cut the level of plastic waste and pursue biodegradable alternatives if we are to tackle this grave threat to turtles' welfare."
The research is published in Endangered Species Research.