Cheap and Effective Electro-catalysts for Fuel Cells
S. Himmelstein | December 11, 2017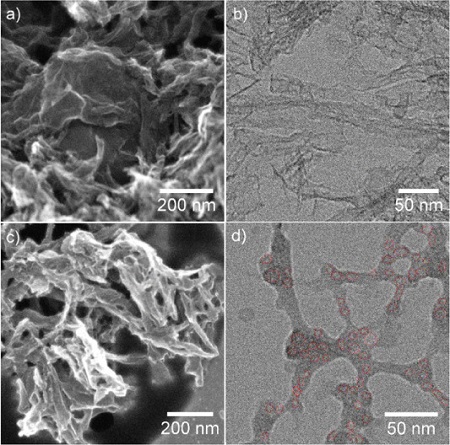 Scanning transmission electron microscopy images of catalysts incorporating glucose (a,b) and those with furfural (c,d). Source: University of SurreyNew low-cost, carbon-based electro-catalysts for anion exchange membrane fuel cells have been designed by researchers in the UK. The catalyst helped to achieve a fuel cell power density performance of 703 mW/cm2. This compares to a performance of just 50 mW/cm2 documented in previous research.
The catalysts are composed of an inexpensive aluminosilicate clay mineral -- halloysite -- as the template and urea as the nitrogen source. Glucose or furfural, an organic chemical that can be derived from oats, wheat bran or sawdust, serve as the carbon source. These constituents were processed into a fine black powder and used as nitrogen-doped carbon electro-catalyst.
The use of such replacements for precious metal-based catalysts could render fuel cell technology more economically attractive and sustainable.
Scientists from the University of Surrey and Queen Mary University of London participated in this research, which is published in the Journal of Power Sources.