Don't Drink This: Beer Becomes Fuel
S. Himmelstein | December 06, 2017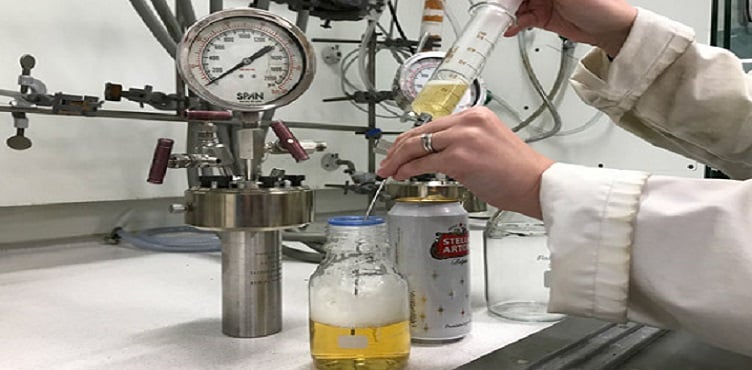 The researchers are brewing technology to convert abundant ethanol into butanol. Source: University of Bristol
It's bock to the future in the continuing search for alternative automotive fuels.
Widely used as a fuel additive in the U.S., ethanol is not an ideal replacement for gasoline due to its lower energy density and corrosive nature. Butanol is a better option but it is difficult to source from sustainable feedstocks.
University of Bristol researchers are brewing technology to convert abundant ethanol into butanol. The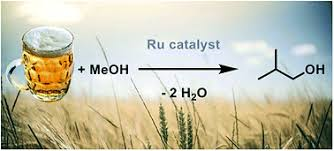 A ruthenium chloride catalyst was found to be effective in converting beer, or rather, the ethanol in beer, into butanol. Source: University of Bristolprocess has been demonstrated in the laboratory with pure, dry ethanol but it must work with real ethanol fermentation broths in order to feasibly scale up. These broths contain water and various impurities, requiring a technology tolerant of these constituents.
"The alcohol in alcoholic drinks is actually ethanol—exactly the same molecule that we want to convert into butanol as a petrol replacement."
"So alcoholic drinks are an ideal model for industrial ethanol fermentation broths — ethanol for fuel is essentially made using a brewing process."
"If our technology works with alcoholic drinks (especially beer which is the best model) then it shows it has the potential to be scaled up to make butanol as a petrol replacement on an industrial scale," says Professor Duncan Wass.
A ruthenium chloride catalyst was found to be effective in converting beer, or more accurately the ethanol in beer, into butanol. Selection of the appropriate catalyst is key to scaling this technology up to industrial application.
Professor Wass added, "We wouldn't actually want to use beer on an industrial scale and compete with potential food crops.
"But there are ways to obtain ethanol for fuel from fermentation that produce something that chemically is very much like beer — so beer is an excellent readily available model to test our technology."
The researchers hope to realize a lager-scale, or rather a larger-scale, process within about five years.
Professor Wass said,"Turning beer into petrol was a bit of fun, and something to do with the leftovers of the lab Christmas party, but it has a serious point.
"Beer is actually an excellent model for the mixture of chemicals we would need to use in a real industrial process, so it shows this technology is one step closer to reality."