Appalachian Basins Drive Natural Gas Growth, EIA Says
David Wagman | December 04, 2017
Shale gas production in the Appalachia region has increased rapidly since 2012, driving an overall increase in U.S. natural gas production.
According to a drilling productivity report from the Energy Information Administration (EIA), natural gas production in the Marcellus and Utica shale plays has increased by more than 14 billion cubic feet per day (Bcf/d) since 2012.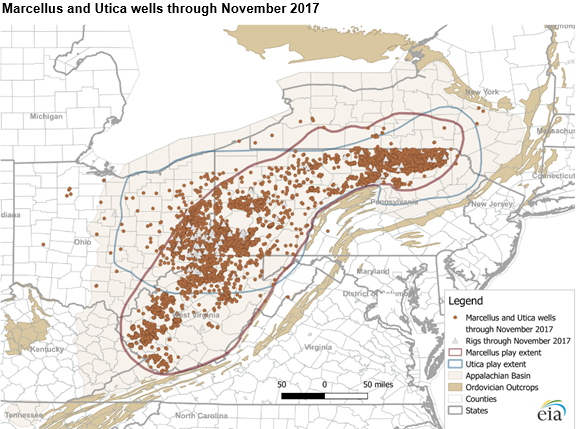 The region stretches from southern New York state to West Virginia. Credit: EIAOverall Appalachian natural gas production grew from 7.8 Bcf/d in 2012 to 22.1 Bcf/d in 2016 and was 23.8 Bcf/d in 2017, based on EIA data through October 2017.
Drilling wells in the Appalachia region have become quite productive, according to the EIA. The average monthly natural gas production per rig for new wells in the Appalachia region increased by 10.8 million cubic feet per day since January 2012.
EIA attributes this increase to efficiency improvements in horizontal drilling and hydraulic fracturing in the region, which include faster drilling, longer laterals, advancements in technology and better targeting of wells.
For example, in West Virginia, the average lateral length per well has increased from about 2,500 feet in 2007 to more than 7,000 feet in 2016. Some operators have recorded lateral lengths as long as 15,000 feet in Appalachia and 19,000 feet in the Utica. Along with longer horizontal drilling, the days it takes for completion have decreased from about 30 days in 2011 to 7 days in 2015.
Interest from China
In November, China Energy Investment Corp. said it plans to invest $83.7 billion over the next 20 years in shale gas development and chemical manufacturing projects in West Virginia.
China Energy has made several trips to West Virginia, and the agreement marks the first step in a series of commitments China Energy plans to make there.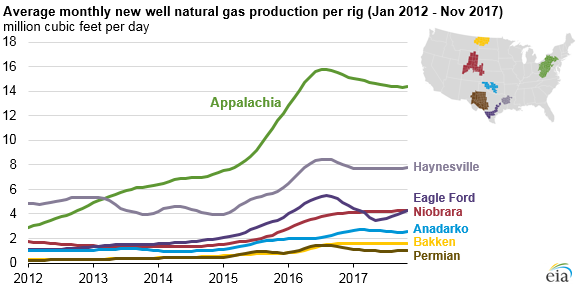 Production has surged in the basins since 2012. Credit: EIAThe projects will focus on power generation, chemical manufacturing and underground storage of natural gas liquids and derivatives.
The state ranks as the ninth-largest natural gas-producing state in the nation, largely because of shale gas production. Natural gas production from shale wells surpassed production from all other natural gas wells in the state for the first time in 2011, and by 2014 annual production exceeded 1 trillion cubic feet. In 2015, shale wells accounted for almost 90 percent of the state's natural gas production, and the state's shale gas reserves exceeded 19 trillion cubic feet.
High Productivity
The Marcellus shale extends from New York to Kentucky and Tennessee and is the most productive natural gas-producing formation in the Appalachian Basin, EIA says. The formation's footprint covers about 95,000 square miles. Dry natural gas wells in the Marcellus are mostly located in the eastern portion of the play and liquids-rich wells are typically located in the western portion.
The Utica Play consists of two stacked geological units: the Utica and Point Pleasant formations. These formations are older—and therefore deeper—than the Marcellus formation. The Utica play spans about 60,000 square miles across Ohio, West Virginia, Pennsylvania and New York.
Drilling in the Marcellus Shale began in 2003 in Pennsylvania and was followed by drilling in West Virginia. In 2010 drilling began in the deeper Utica and Point Pleasant formations in Ohio and has more recently started in Pennsylvania and West Virginia. As of November 2017, more than 1,800 wells have been drilled in the Utica-Point Pleasant, and more than 11,300 wells have been drilled in the Marcellus.