With an eye toward the prolific Marcellus and Utica-Point Pleasant plays, China Energy Investment Corp. plans to invest $83.7 billion over the next 20 years in shale gas development and chemical manufacturing projects in West Virginia.
The state's Secretary of Commerce, H. Wood Thrasher, and China Energy representative Ling Wen signed a memorandum of understanding in Beijing on November 9.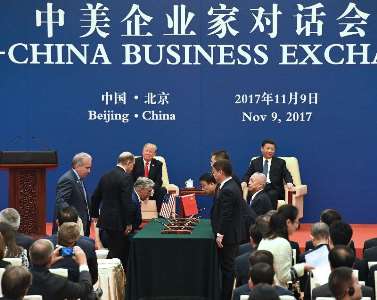 Officials from West Virginia (left side of the table) and China Energy sign the MOU. Credit: WV Dept. of CommerceChina Energy has made several trips to West Virginia, and the agreement marks the first step in a series of commitments China Energy plans to make in there.
The projects will focus on power generation, chemical manufacturing, and underground storage of natural gas liquids and derivatives.
West Virginia is situated within the leading natural gas-producing area in the nation, according to the Energy Department's Energy Information Administration. The state's natural gas reserves and production have increased with drilling in the Marcellus and Utica-Point Pleasant shale formations.
The state ranks as the ninth-largest natural gas-producing state in the nation, largely because of shale gas production. Natural gas production from shale wells surpassed production from all other natural gas wells in the state for the first time in 2011, and by 2014 annual production exceeded 1 trillion cubic feet. In 2015, shale wells accounted for almost 90 percent of the state's natural gas production, and the state's shale gas reserves exceeded 19 trillion cubic feet.
In February, West Virginia University joined the Energy Department's Rapid Advancement in Process Intensification Deployment institute. The Obama-era institute focuses on using advanced manufacturing to develop breakthrough technologies to boost productivity and efficiency of some of industrial processes by 20 percent within five years. WVU says this meets a need for many production locations in the state's Marcellus Shale region where some shale gas resources are stranded without pipeline infrastructure, affecting access and price.
EIA says that new pipeline projects have come online in recent years to move natural gas from the Marcellus producing areas to markets in the Northeast, Midwest and Gulf Coast, and to expedite development of the Marcellus Shale and the Utica Shales. Many natural gas processing plants and pipelines have been built or expanded in north central West Virginia. The processing plants separate dry natural gas from the associated natural gas liquids being produced from the Marcellus Shale. Pipelines have been built to transport natural gas liquids from Appalachia to the Texas Gulf Coast, to eastern refineries and to the Midwest and southern Canada.
West Virginia has 31 underground natural gas storage fields, 30 in depleted natural gas reservoirs and one in an existing aquifer. Those fields have a total storage capacity of about 530 billion cubic feet of natural gas and account for almost six percent of the nation's total underground natural gas storage capacity. The proximity of that storage capacity to northeastern markets makes West Virginia an important supplier to the region during the winter months when natural gas demand peaks.
China Energy is the recent creation of a merger between China's state-owned coal mining company Shenhua Group and energy producer Guodian Group. The merger positions China Energy as one of the world's largest power companies with more than 200,000 employees.
West Virginia has an existing relationship with China Energy, including research projects with West Virginia University on direct coal liquefaction technology.