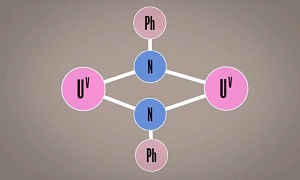 The discovery could transform the way industry makes bulk chemicals, polymers and the precursors to new drugs and plastics. Source: University of Manchester
New industrial uses for uranium that don't involve nuclear power or weapons may be on the horizon.
Chemists at the University of Manchester, UK, have discovered that uranium can perform reactions that used to be the preserve of transition metals such as rhodium and palladium. Uranium's assignment on the Periodic Table is between lanthanides and transition metals, suggesting the potential to combine the best of both to give new ways of producing materials and chemicals.
Steve Liddle, professor and head of inorganic chemistry, said: "This discovery will lead to some monumental developments that could change the way we live. Development work like this really could pave the way for new medicines and also the creation of truly biodegradable hard plastic.
"It is comparable to the discovery of liquid crystal displays, which happened 20 years before everyone sat up and realised that they could be used in modern computer displays and TVs."
The catalysis research is published in Nature Communications.