High Performance Bearings for the Fluid Power Industry
Ken Thayer | November 14, 2017

GGB Plain Bearing; Source: GGB
GGB offers a range of high performance bearing solutions for demanding fluid power applications such as hydraulic pumps and motors.
GGB's low-friction, self-lubricating plain bearings offer reduced size and weight, increased efficiency, better durability and lower energy consumption compared to conventional bearings. Exhibiting excellent wear properties, fluid bearings from GGB are compatible with hydraulic fluids and water emulsions and offer increased service life. Due to their performance characteristics, GGB plain bearings can be used to replace costly roller bearings in some applications, providing more contact area which yields higher load capacities and shock loading resistance.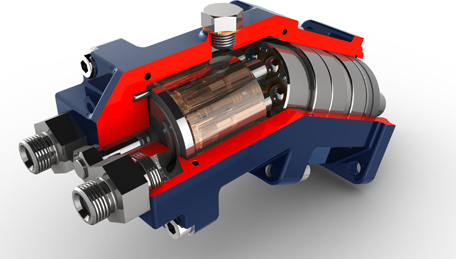 Fluid Power Application; Source: GGBGGB also offers precision hydrodynamic bearings for fluid power applications, including shaft bearings, thrust plates, gear bearings, cradle bearings and bushing blocks. Their resistance to cavitation and chemicals makes them ideal for use in high load, high-speed applications such as vane pumps, as well as gear and piston pumps and motors.
GGB's application engineering team can partner with OEMs to identify performance improvements that can be gained by incorporating GGB fluid bearings. The single piece bearing construction, with no moving parts, simplifies and quickens the installation process. It also reduces the damage that may occur during installation and operating noise.
With manufacturing facilities in the U.S., Germany, France, Brazil, Slovakia and China, GGB serves more than 50,000 customers worldwide.
For additional information on GGB bearing solutions for fluid power, visit the GGB website:
https://www.ggbearings.com/en/markets/fluid-power