Hydrogen-fueled trains are slated to start running in the German region of Lower Saxony beginning in 2021.
Coradia iLint is being built by Alstom for the Local Transport Authority of Lower Saxony and will include 14 fuel cell trains. They will replace diesel units operated by the transport authority Elbe-Weser-Verkehrsbetriebe. The Coradia iLint is expected to cover up to 1,000 kilometers (620 miles) with one tank fill, and can reach a maximum speed of up to 140 km/h (87 mph).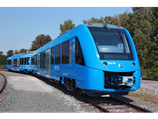 Alstom's hydrogen-fueled train. Credit: AlstomThe trains are powered by an electrical traction drive. Electrical energy is generated on-board in a fuel cell and stored in batteries. The fuel cell provides electrical energy by combining hydrogen stored in tanks on-board with oxygen from the air. The only exhaust is water steam and condensed water.
The battery stores energy from the fuel cell when it is not needed or from kinetic energy generated by the train during braking and allows for extra energy delivery during acceleration.
The rail deal includes a 30-year maintenance and energy supply agreement. A prototype is expected to begin operations in spring 2018.
The Linde Group will build and operate a hydrogen filling station for trains in Bremervörde. The roughly 10 million euro ($8.6 million) cost will be funded by the German Federal Government. The on-site production of hydrogen by electrolysis driven by wind energy will be planned in a later phase of the project.