The world's first low floor passenger train powered by a hydrogen fuel cell has completed its initial test run at 80 km/h (50 mph). Alstom's Coradia iLint is undergoing a four-week trial on its own test track in Salzgitter, Germany. The silent, zero-emission train uses the fuel cell to generate electrical power for traction, and emits only steam and condensed water.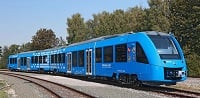 The Coradia iLint.
The field tests are expected to confirm stability of the energy supply system based on coordinated interaction between the drive, the fuel cell, and the battery of the vehicle. Braking power is also being tested to check the interface between the pneumatic and the electric brake. To accommodate the tests, a mobile filling station has been erected in Salzgitter to pump gaseous hydrogen into the pressure tank of the Coradia iLint.
Dynamic tests are also underway in Velim (Czech Republic) at up to 140 km/h (87 mph), the maximum speed of the Coradia iLint.
The static commissioning process has been completed, with all electrical and pneumatic functions of the trains tested and verified at standstill. TÜV Süd has certified the safety of the battery, the pressure tank system, and the fuel cell for the coming test phases.
Alstom has already signed letters of intent for 60 trains with the German states of Lower Saxony, North Rhine-Westphalia, Baden-Württemberg and the Hessian transport association 'Rhein-Main-Verkehrsverbund'. The Coradia iLint is expected to perform its first passenger test runs on the Buxtehude–Bremervörde–Bremerhaven–Cuxhaven (Germany) route beginning of 2018.
Hydrogen used for the test runs is the by-product of an industrial process, which is reasonably reused as a waste product. In the long term, Alstom aims to support hydrogen production from wind energy.