Citizen scientists in the U.K. now have the opportunity to submit or explore environmental monitoring data using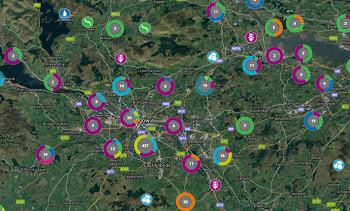 Citizen science data mapped around Glasgow. Source: Imperial College Londonthe interactive maps and graphs made available by Open Air Laboratories (OPAL). The project is operated through the Centre for Environmental Policy at Imperial College London.
The records available on the OPAL Data Explorer visualization system track air quality, water quality, earthworm distribution, biodiversity, insect distribution, tree health and distribution of the invasive New Zealand flatworm.
The data can be explored by map, letting users see what survey results have been submitted for their local county, town or even local school grounds. The information can also be analyzed in graphs for the air, bug counts and water surveys.
More than 930,000 people have participated in the OPAL surveys to date; over 54,000 surveys have been submitted and more than 23,000 sites have been surveyed.