Growing U.S. Offshore Wind Market Gets a Boost
David Wagman | October 31, 2017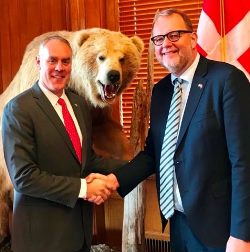 Interior Secretary Ryan Zinke and Danish Energy and Climate Minister Lars Christian Lilleholt with an unidentified grizzly bear. Source: Danish Climate and Energy Ministry
The United States signed a deal with Denmark in late October to expand cooperation on offshore wind power.
Danish companies DONG Energy and Vestas say the Trump administration is increasingly looking at Europe's experience in offshore wind energy.
"We see some positive initiatives coming out of the administration in Washington," the head of DONG's U.S. business, Thomas Brostroem, told Reuters. He pointed to measures being taken on a federal level to streamline and speed up the process to obtain permits to build offshore wind farms.
"They've been really receptive to talk to European countries and developers to get know-how from the past decades," he said.
To gain traction, experts say the U.S. will need to replicate the cost cuts that Europe has implemented.
(Read "Engineers Claim Breakthrough in Offshore Wind Construction.")
Vestas produces onshore turbines at four factories in the United States. Large offshore turbine parts like the nacelles, towers and rotors could be made at existing facilities in Europe as the U.S. market grows.
Low subsidy prices in Europe have prompted European developers to search for new revenue streams in the U.S. and China.
"It is a huge scoop that we now get a formal cooperation with the Trump administration on offshore wind," Danish climate and energy minister Lars Christian Lilleholt told Reuters.
The cooperation will initially revolve around the exchange of experience and knowledge regarding how the U.S. can expand its energy supply with more offshore wind turbines, which are more affordable today than ever before and are increasingly competitive in comparison to other energy sources.
In 2015, 42 percent of Denmark's electricity demand was met by energy produced by wind turbines. The country has an installed generating capacity of 1.3 GW.
The U.S. Department of Energy has estimated that 35 percent of the U.S. electricity could be produced by wind energy by 2050; one fifth of that could be from offshore wind energy. To achieve that, an investment of around $400 billion may be required.
In July, Dominion Energy Virginia signed an agreement with DONG Energy to build two 6 megawatt (MW) wind turbines in a federal lease area 27 miles off the coast of Virginia Beach. Dominion Energy is the project's sole owner.
(Read "Maryland OKs Offshore Wind Farms.")
One Danish wind energy executive says that around 2 GW of installed capacity would be realistic by 2020. That compares to the 0.030 GW currently installed. By 2030, the annual capacity expansion could be between 500 MW and 1 GW.