Made in the UK: Turbine Blades for Offshore Wind
Engineering360 News Desk | August 10, 2016
The first six 80 m-long blades for the 258 MW Burbo Bank Extension project have arrived at the MHI Vestas Offshore Wind pre-assembly facility in Belfast, Northern Ireland. The blades for the V164-8.0 MW turbines were designed, tested and manufactured at the MHI Vestas blade factory on the Isle of Wight.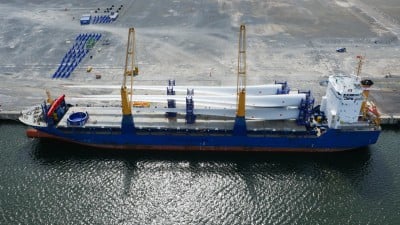 Wind turbine blades arrive in Belfast Harbor. Each blade weighs 35 tons and the turbines will sweep an area larger than the London Eye (21,124 sq m). The MHI Vestas V164-8.0MW machine is considered the world's most powerful wind turbine with larger components than those previously handled in Belfast. Once operational at the 40 km2 wind farm, the tip height of the blade and turbine will be almost 200 m.
The turbines will be installed later in 2016 and commissioned in 2017 off the coast of Liverpool Bay. Burbo Extension Ltd is owned by DONG Energy Wind Power, PKA and Kirkbi.