Maryland OK's Offshore Wind Farms
David Wagman | May 12, 2017
The Maryland Public Service Commission on May 11 awarded offshore wind renewable energy credits (ORECs) to two projects to be built off the coast of Maryland.
The decision enables U.S. Wind, Inc. and Skipjack Offshore Energy, LLC to build 368 megawatts of capacity.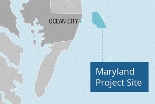 Site of proposed US Wind project.Each company is awarded ORECs at a levelized price of $131.93 per megawatt-hour (MWh) for 20 years, beginning in January 2021 for U.S. Wind and 2023 for Skipjack.
US Wind says it plans to spend $1.375 billion to install 62 turbines in 20-30 meters of water 12 to 15 nautical miles offshore. The cost for the projected 248 MW of capacity equals around $5,544 a kilowatt. Energy will be collected from the turbines and transmitted to the Indian River substation using underwater cables. US Wind was founded in 2011 and is owned by Renexia S.p.A., an Italian renewable energy developer and a subsidiary of Toto Holding Group.
The 120 MW Skipjack Wind Farm would include 15 turbines 17 to 21 nautical miles northeast of Ocean City, MD. The project would connect to the onshore grid at a substation in Ocean City. The project would cost around $720 million, or roughly $6,000 a kW. Skipjack is being developed by Deepwater Wind, which also developed the Block Island wind farm off of Rhode Island.
According to the Maryland Commission's consultant, Levitan & Associates, the net ratepayer bill impacts associated with the Commission's approval are projected to be less than $1.40 per month for residential customers and less than a 1.4% impact on the annual bills of commercial and industrial (C&I).
Those impacts will not take effect until electricity is generated by the projects. U.S. Wind's project is expected to be operational in early 2020; Skipjack anticipates being in operation near the end of 2022.
In approving the projects, regulators attached nearly 30 conditions, including requirements that the developers create a minimum of 4,977 direct jobs during the development, construction and operating phases of the projects; pass 80% of any construction costs savings to ratepayers; and contribute $6 million each to the Maryland Offshore Wind Business Development Fund.
The companies will be required to use port facilities in the greater Baltimore region and Ocean City for construction and operations and maintenance activities. The developers also must invest collectively at least $76 million in a steel fabrication plant in Maryland and together fund at least $39.6 million to support port upgrades at the Tradepoint Atlantic (formerly Sparrows Point) shipyard in Baltimore County.
Maryland's Renewable Energy Portfolio Standard (RPS) has a mandate of 25% of electricity purchased from renewable energy resources by 2020. The 2013 law created a carve-out for offshore wind energy in the RPS of up to 2.5% of total retail electricity sales.
As a condition of the order, US Wind must locate its project as far to the east (away from the shoreline) of the designated wind energy area as practical. Each developer also must take advantage of the best commercially-available technology to lessen views of the wind turbines by beach-goers and residents, both during the day and at night.
Each company must notify the Commission by May 25, 2017 whether it accepts the conditions of approval contained in the order. In addition, awarding of ORECs is contingent on approval by the federal government of the developers' site assessment plans, construction and operations plans, and other processes as required.