New, High-tech Terminal Opens in Singapore Airport
Marie Donlon | October 31, 2017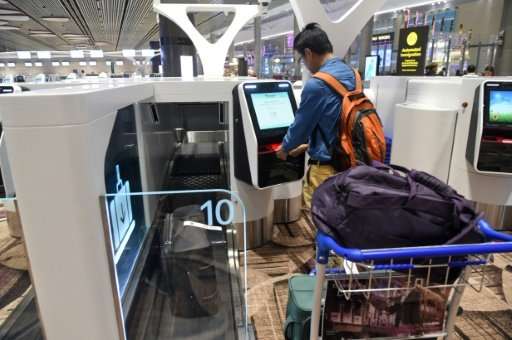 A passenger checks in his luggage using an automated booth at the newly opened Changi International Airport's Terminal 4 in Singapore. Source: AFPA new terminal in Singapore's Changi Airport opened this week, offering travelers a fully automated experience.
With facial recognition scanning and a fully automated check-in system, Terminal 4 is expected to alleviate the anticipated increase in the number of travelers passing through the popular travel hub each year.
The new technology will mean that, in most instances, travelers will be able to check in and board flights without talking to airport staff.
Changi Airport is rolling out the new technology in an effort to compete with other travel hubs that offer similar services.
The new terminal, which cost $723 million to build, is expected to have an annual capacity of 16 million people.