Better Hearing with Spider Silk
S. Himmelstein | October 30, 2017
As unlikely as it seems, spiders can boost your hearing by improving the quality of hearing aids and related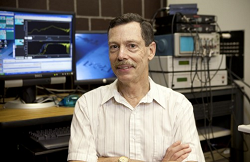 Binghamton University distinguished professor Ron Miles. Source: Binghamton University, State University of New Yorkmicrophone components. These gains stem from use of spider silk and not the arachnids themselves, according to Binghamton University, State University of New York researchers.
Use of the silk should lead to the development of better microphones for hearing aids compared with conventional pressure-based systems. Spider silk detects the velocity of the air instead of the pressure of the air.
The researchers coated spider silk with gold and put it in a magnetic field to obtain an electronic signal, forming an effective microphone with enhanced directional capabilities across a wide range of frequencies. The design boosts directional sensing across a range of frequencies that are often too quiet for microphones to pick up.
For someone with a hearing aid, this means being able to cancel out background noise when having a conversation in a crowded or noisy area. The same concept could be applied to the microphone inside cell phones, and any fiber that is thin enough could be used in the same way.
Spider silk is thin enough that it also can move with the air when hit by soundwaves. "This can even happen with infrasound at frequencies as low as 3 hertz," said Miles. Sound at that frequency is typically inaccessible. It'd be equivalent to hearing the tectonic plates moving in an earthquake.