Photonic Hearing Aid Boosts Speech Recognition
Kristin Lewotsky | February 09, 2016
The roughly 37.5 million adult Americans with hearing impairment may soon have a new assistive device option with the release of the EarLens Contact Hearing Device.
The photonic hearing aid stimulates the eardrum directly for better frequency response than conventional air-conduction hearing aids. In a study, the device improved speech recognition by an average of 33%. The non-surgical solution can be installed in a physician's office.
The basic hearing aid consists of a microphone, a processor and an amplifier. In a conventional air hearing aid, the microphone captures the signal, the processor breaks it into the various frequencies, amplifies the signal and re-combines it. The resulting signal drives a speaker to generate an amplified sound wave that passes down the ear canal to the eardrum. Although it improves performance, it remains an indirect stimulation. In contrast, the EarLens stimulates the eardrum via direct contact.
The EarLens consists of two parts, the behind-the-ear assembly (BTE) and the tympanic contact actuator (TCA). The TCA consists of a central pad with a micro-actuator and a photodetector, all enclosed by a thin perimeter film. When placed in the ear canal against the eardrum, the TCA vibrates the eardrum directly for a more effective transmission of sound.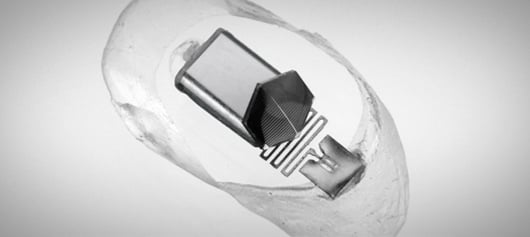 The tympanic contact actuator consists of a photodiode and a central pad driven by a micro-actuator. The perimeter ring that encloses the assembly enables it to be placed in the air canal, where it can excite the eardrum directly. The BTE contains a microphone, a digital signal processor (DSP), and a rechargeable battery. It connects to a wire Pro that terminates in an IR diode laser. The DSP performs the same frequency analysis and amplification steps as a conventional hearing aid. Instead of powering a conventional speaker, however, the signal drives the diode laser. The laser generates an optical signal that is captured by the photodiode in the TCA. That, in turn, drives the micro-actuator/contact pad in the TCA, which vibrates the eardrum directly.
Clinical trials demonstrated an average gain of 30.5 dB over the frequency band from 2 to 10000 kHz, 30 to 40 dB over the band from 6 kHz and above, and as much as 68 dB at 9 to 10 Hz. The EarLens is expected to reach the market later this year.