Antibiotics are losing their punch due to overuse and the development of resistance among many bacterial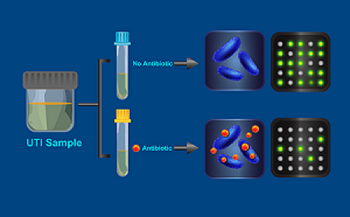 A visualization of how the antibiotic resistance test works. Source: Caltechspecies. As a result, physicians are increasingly overlooking first-line antibiotics like methicillin or amoxicillin; bacteria are more likely to be resistant to these. Instead, stronger second-line antibiotics are prescribed, which in turn makes it more likely that bacteria also will become resistant to these more powerful drugs.
The problem is complicated by the lack of a rapid test to gauge if a patient's infection is resistant to particular antibiotics. Doctors currently send a sample to a testing lab, and wait two to three days for results.
A new rapid test developed at California Institute of Technology promises to change the way antibiotics are prescribed. The assay identifies antibiotic-resistant bacteria in as little as 30 minutes and could help medical professionals select more effective drugs to treat an infection.
The test was initially developed for common urinary tract infections (UTI): half of a urine sample is exposed to an antibiotic for 15 minutes while the other half incubates without the drug. The cellular contents of bacteria from each sample are then analyzed through a chemical detection process called digital real-time loop-mediated isothermal amplification and a SlipChip device. The method replicates specific DNA markers so they can be imaged and individually counted as discrete fluorescent spots appearing on the chip.
Bacteria will replicate their DNA less well in an antibiotic solution, resulting in the presence of fewer DNA markers. If resistant to the antibiotic, bacterial DNA replication will not be hampered and the test will reveal similar numbers of DNA markers in both the treated and untreated solutions.
When applied to samples from patients with UTIs, the new assay was 95 percent consistent with results from the two-day, gold-standard laboratory test. The researchers plan to expand the scope of the test for other bacteria and other bodily fluids, such as blood.