Stanford University researchers report development of a new high-performance, low-cost battery system. Instead of being based on relatively expensive lithium, this battery chemistry uses sodium.
Others have designed sodium-ion energy storage devices, but this one costs less than 80 percent of a lithium-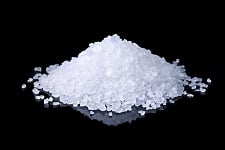 Stanford University researchers are developing a sodium-ion battery based on a compound related to table salt. Source: Getty Imagesion battery with the same storage capacity. Lithium costs about $15,000/ton to mine and refine, while widely available sodium-based electrode material costs just $150/ton.
Four-sodium storage in a disodium rhodizonate electrode was achieved with a reversible capacity of 484 mAh g−1, an energy density of 726 Wh kg−1, an energy efficiency above 87 percent and a good cycle retention.
The sodium salt makes up the electron-storing cathode, and the battery chemistry shuttles those electrons toward the phosphorus-based anode. The more efficiently the cathode shuttles those electrons toward and backward versus the anode, the better the battery works. The new design improves that electron flow, which in turn enhances battery performance.