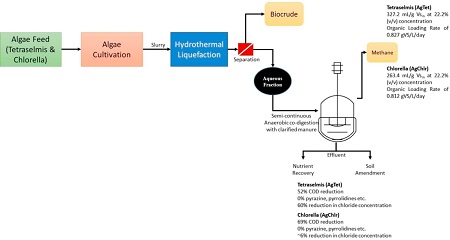 Process schematic for semi-continuous anaerobic digestion. Source: Washington State University/PNNL
Converting algae to biofuels via hydrothermal liquefaction produces a considerable amount of wastewater requiring treatment prior to discharge or disposal. About 20-40 percent of carbon and 80 percent of nutrients from the algae, along with small concentrations of various chemicals, are left behind in these effluents.
Researchers from Washington State University and Pacific Northwest National Laboratory (PNNL) sought to exploit such biowaste for the production of value-added commodities. A semi-continuous anaerobic digestion process was used to degrade the organic fraction of wastewater. A bionatural gas was generated, along with solid material that can be treated as a fertilizer or recycled back into the hydrothermal liquefaction process for further use.
"After removing the solids, about 10 percent of the output is bio oil, with the remaining 90 percent being a waste byproduct. The fact that we've developed an alternative method to recycle or treat the leftover material means it's more economical to produce the bio oil, making the potential for commercial use of the process more likely," said Andrew Schmidt, of PNNL's chemical and biological processes development group.
The research team is now developing a similar strategy to convert sewage sludge to biofuels and nutrients.