Toxic algae bloom into biocrude
S. Himmelstein | November 10, 2020
Nuisance algal blooms that degrade aquatic ecosystems, pose health risks and increase water treatment costs may actually represent a viable biofuel and fertilizer resource. A three-year research project led by U.S. Army Corps of Engineers Research and Development Center seeks to recover energy and nutrients from blue-green algal blooms.
As a participant in the Harmful Algal Bloom Interception, Treatment and Transformation System (HABITATS) initiative, U.S. Pacific Northwest National Laboratory researchers have been investigating such repurposing of blooms by means of hydrothermal liquefaction. A three-step approach has been demonstrated that cleans the water, removes the algae and entrained nutrients such as nitrogen and phosphorus, and transforms the algae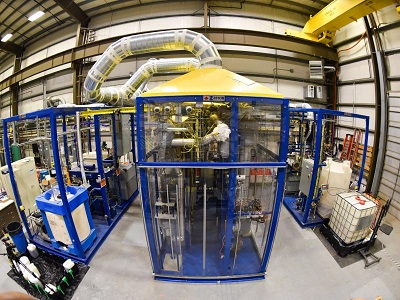 Hydrothermal liquefaction transformed concentrated algae biomass from Lake Okeechobee into biocrude. Source: Andrea Starr/Pacific Northwest National Laboratoryinto a potential energy source.
The first stage involves collecting algae from the surface of a natural body of water using a skimming device and boom that guide the plants to a collection point. The algae are then separated from the water by dissolved air floatation (DAF), after which the treated water is returned to the environment while the algae are further concentrated to maximize the potential for energy and nutrient recovery. The final stage transforms the concentrated algae biomass into biocrude by hydrothermal liquefaction, using temperature regimes 250° C to 380° C and pressures of 5 MPa to 28 MPa to convert feedstocks to biocrude.
Initially tested at Lake Okeechobee, Florida, in 2019, the DAF process was observed to extract 95% of the algae from water and to reduce concentrations of phosphorus, nitrogen and organic carbon concentrations by greater than 95%, 65% and 50%, respectively. Proof of concept testing successfully applied hydrothermal liquefaction to generate biocrude from the harvested algae.
The data gathered during this phase will inform the next stage of HABITATS as the researchers fine-tune a process for catalytic upgrading the biocrude to yield diesel-range renewable fuel blendstocks.