Molecular Trap Grabs Radioactive Iodide from Used Fuel Rods
S. Himmelstein | October 06, 2017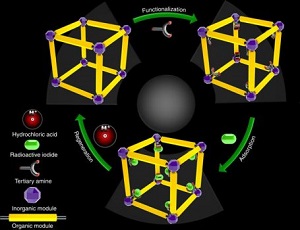 A schematic illustrating the design of a recyclable MOF molecular trap for effective capture of radioactive organic iodides from nuclear waste. (Source: Wake Forest University)An effective method developed to capture radioactive organic iodides from nuclear waste relies on metal-organic framework (MOF) materials as molecular traps.
The scheme removes nearly all radioactive iodide from used nuclear fuel rods. U.S. regulations mandate reprocessing plants to scrub 99.967 percent of radioactive iodides from the rods. The new MOF method removes 99.979–99.984 percent.
The MOF was engineered at Rutgers University, analyzed by computational physicists from Wake Forest University. Its performance was measured in experiments conducted at University of Texas-Dallas.
The MOF is three to four times more effective at radionuclide capture than the current industrial adsorbent used by nuclear power plants. It's also cheaper, because it doesn't rely on a precious metal such as silver to form its corners. The new adsorbent can also be recycled multiple times without loss of capacity.