Swiss chemists have developed and patented an environmentally friendly way to produce flame retardants for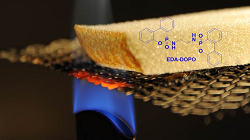 Foam sample with EDA-DOPO in a flame test in the Empa laboratory. (Image: Empa)foams that can be used in mattresses and upholstery. Unlike previous flame retardants made of chemicals containing chlorine, the new material is non-toxic and effective.
EDA-DOPO, the environmentally friendly flame retardant developed at Empa (Swiss Federal Laboratories for Materials Science and Technology), is going into serial production. Metadynea Austria GmbH will manufacture the material and, if there is sufficient demand, the global FoamPartner Group will use it to produce flame-retardant polyurethane (PU) foams for upholstery and mattresses. Since the new method of production of DOPO (9,10-dihydro-9-oxy-10-phosphaphenanthrene-10-oxide) derivatives was patented in June 2017, Metadynea Austria GmbH has already produced around 1.5 tons of the flame retardant.
The material is envisioned as a replacement for conventional halogenated flame retardants which are sometimese toxic and emit toxic gases in the event of a fire. Foam material containing the new flame retardant satisfies the highest flame retardant classification (UL 94 HB).
Products containing EDA-DOPO are not yet commercially available, as the flame retardant is currently being certified in accordance with the European chemical regulation REACH.