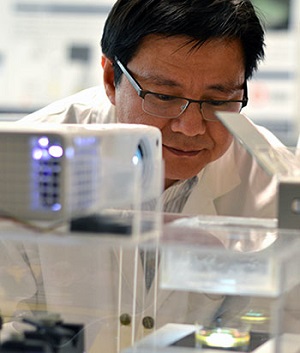 Keekyoung Kim has great hopes for the bio-ink he is researching in his lab. Source: University of British Columbia
The efficient, low-cost fabrication of tissues and organs comes a step closer with a new hydrogel developed at the University of British Columbia, Canada.
Researchers examined the physical and biological properties of three different gelatin methacrylate (GelMA) hydrogels—porcine skin, cold-water fish skin and cold-soluble gelatin. The material derived from cold-soluble gelatin (gelatin that dissolves without heat) was deemed the best performer and a strong candidate for future 3D organ printing.
"A big drawback of conventional hydrogel is its thermal instability. Even small changes in temperature cause significant changes in its viscosity or thickness," says assistant professor Keekyoung Kim. "This makes it problematic for many room temperature bio-fabrication systems, which are compatible with only a narrow range of hydrogel viscosities and which must generate products that are as uniform as possible if they are to function properly."
The properties of two new hydrogels—one made from fish skin and one from cold-soluble gelatin—were compared to those of porcine skin GelMA. The fish skin GelMA offered some benefits, but the cold-soluble GelMA was the top overall performer. It could form healthy tissue scaffolds, allowing cells to successfully grow and adhere to it, and was also thermally stable at room temperature.
The researchers consider this hydrogel an excellent choice for use in 3D bio-printing. They also note that it is three times cheaper than porcine skin gelatin.