A materials engineering discovery by an international team of researchers could lead to flexible, almost unbreakable smart devices, as well as scratch-proof paint for cars.
Superlubricity – a condition where friction vanishes or is severely diminished – was demonstrated in a few layers of graphene. In addition, the team documented that a few layers of hexagonal boron nitride (h-BN) are as strong as diamond but are more flexible, cheaper and lighter.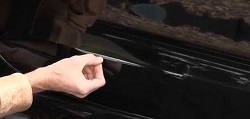 The findings could result in scratch-proof paint for cars. Source: Queen's University BelfastAccording to Dr. Elton Santos from the School of Mathematics and Physics at Queen's University Belfast: "Our key finding is that bilayer graphene develops a super-lubricity state where no heating is generated as the layers slide on top of each other. Just a few materials have these features and it looks like graphene has joined this exclusive club. During this process, we also discovered that h-BN, a common lubricant used in several automotive and industrial applications, developed a mechanical strength in a few layers. These are as strong as diamond, measured in terms of a quantity called Young modulus. This is a truly ground-breaking finding as even an insulator with thin layers could not keep its Young modulus at such high magnitudes.
"There are several possibilities for application of our discoveries which could have a positive impact in the real world. We are looking at a timeline of around five to ten years to transform the discoveries into real products but we could see benefits such as material reinforcement to mixture in solutions such as ink for paint, which would give further strength against corrosion and could potentially mean scratch-proof cars in future.
"This stretchy material could also be used in electronic devices and motor engines to make friction very low, as no heat is released."
Researchers from Deakin University (Australia), University of Texas, Ulsan National Institute of Science and Technology (South Korea), National Institute for Materials Science (Japan), Northwestern Polytechnical University (China) and Wenzhou University (China) also participated in this study.