Credit: NIST
Elemental mercury has been an important metal in scientific and industrial applications for many decades; however, due to environmental and health considerations, strict regulations have been legislated, both in the United States and in the international community. It is now seldom in batteries, electronic devices, thermostats, household appliances, light bulbs and thermometers and the scientific community avoids its use at all cost. So, a quest for a new material to replace it has been ongoing for the last decade.
Not only does mercury need to be replaced in our themometers, but it also needs to be replaced as a temperature reference material. Mercury is used to define one of the 16 fixed points in the temperature standard the International Temperature Scale of 1990 (ITS-90). The triple-point of mercury is one of these standards used in the calibraton of thermometers.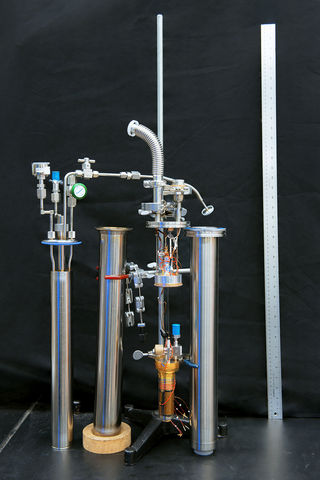 Tripe-point cell. Credit: NISTCreating the triple-point of mercury – that occurs at temperature of −38.83440° C (234.1656 K) and a pressure of 0.165 mPa – requires confining mercury in a specialized cell at the triple-point pressure and cooling it to the proper temperature. The reason mercury has been used as a temperature reference is due to its stability. Mercury cells produce uncertainty of less than 1 mK (millikelvin), an achievement not easily reproduced by other materials.
Because of the imminent phase out of mercury in thermometers and others devices, scientists at the National Institute of Standards and Technology (NIST) are studying alternative materials as a replacement, including as a temperature standard. Nowadays there is no ready replacement for the mercury triple-point reference. This could lead to problems in thermometer calibration as very few labs maintain mercury cells.
"Since any thermometer calibration that goes below 0° C makes use of the mercury triple-point, the development of alternative fixed points is imperative," explains Weston Tew of NIST's physical measurement lab (PML).
"And we at NIST can lead this effort by evaluating the most promising substitute materials."
There are several proposed substitute materials circling in the scientific community. Researchers at the NIST have identified two good candidates: carbon dioxide (CO2) and sulfur hexafluoride (SF6). Both are chemically inert and have triple-points just below that of mercury. Their focus for now is the SF6 compound with a triple-point temperature of 233.555 K, close to mercury's. They are developing the first-ever SF6 triple-point cell to be used for temperature calibration. If successful, SF6 may be the material we will see in future thermometers and other devices.
Even though the initial results have been promising, still there is a long way to go. Unlike mercury, SF6 is a compound made by chemical synthesis with the implication that it is difficult to obtain pure samples to match mercury's triple-point performance. According to NIST scientists, the ideal compound must have less than one-millionth of impurities, therefore an order-of-magnitude better is needed than what it is found commercially.
"This is still early work, and achieving performance on par with mercury will require improvements in the purity of SF6 used, as well as refinements to measurement technique; after you have high enough chemical purity, and your equipment is good enough, all that remains is improving the technique," Tew notes.