The new PC210LCi-11, intelligent machine control hydraulic excavator introduced by Komatsu America Corp.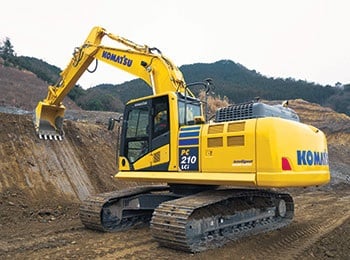 Source: Komatsu America Corp.leverages the proven track record and success of the pioneering PC210LCi-10 while adding machine-control-joystick functionality.
The machine offers up to a 63 percent improvement in excavating efficiency over a standard PC210LC-11 and traditional stake-plus-grade-checker methods. The extra efficiency can save time and money by minimizing the need and expense of grading dozers and grade checkers, and by reducing costs associated with over-excavating, including extra materials, fuel and time.
Key features of Komatsu's intelligent machine control technology include:
•Factory Integrated: Intelligent machine control technology factory installed, integrated into the base machine and validated to the same quality standards now synonymous with the Komatsu brand.
•Machine Control Function–Enabled Joysticks: Frequently used machine control functions are now located on the operator's control lever for increased convenience and comfort.
•Full 3D GNSS Capabilities: Not limited like 2D-only systems, the PC210LCi-11 features full 3D capabilities, allowing it to dig to grade everywhere on the jobsite that a 3D GNSS dozer can.
•Work Equipment Automation: GNSS technology tied into machine hydraulics to allow actual automation of work equipment functions—not just the indication/manual-only operation typical of aftermarket offerings.
•Stroke Sensing Hydraulic Cylinders: No delay position readout with our proven, robust technology, validated in thousands of machines worldwide.
•Intelligent Guidance: Advanced features such as facing angle compass and minimum distance bucket control are delivered in a simple and intuitive manner, with a class-leading 12.1 in. touchscreen display.