Largest Commercial Drone Deal Enables Autonomous Robotic Earth Moving on Construction Sites
Eric Olson | March 27, 2018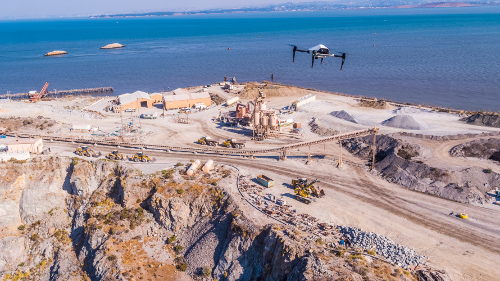 Skycatch's Explore1 drone flies over a site. Credit: Skycatch
In the largest commercial drone order in history, Komatsu Smart Construction has ordered a fleet of 1,000 custom drones from civilian drone manufacturer DJI and commercial drone data company Skycatch.
Customized with Skycatch's 3D site mapping technology, each Explore1 drone is designed to fly over a construction site snapping photos at a rate of two per second. The images are sent to a Skycatch Edge1 base station which processes them to create 3D site maps accurate to within 3 to 5 cm.
Komatsu Smart Construction will use the map data for its new data service that enables robotic earth moving equipment, used in the earthwork stage of the construction process, to correctly dig, bulldoze and grade land autonomously according to digital construction plans.
By comparing the visual site maps with overlaid CAD schematics, site managers can also quickly discover costly construction mistakes and predict schedule delays.
"Conducting a site survey using a drone used to take hours," said Chikashi Shike, Executive Officer of Smart Construction Division at Komatsu in a press release. "However, by implementing Explore1, users can carry out surveying quickly and easily. Now it is possible to perform drone surveying every day.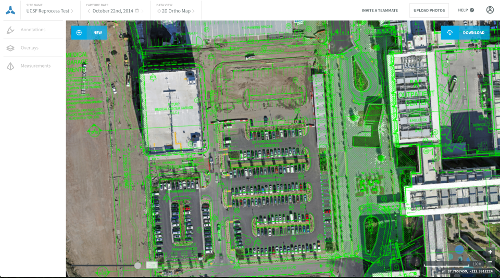 Site maps overlaid with CAD schematics allow construction mistakes to be quickly identified. Credit: SkycatchTaking off, landing and flight route setting are all automated. Ground Control Points (GCPs) are no longer needed. 3D data is immediately generated and an entire construction site can be visually checked with the 3D map. The Explore1 is a true game changer for the construction site."
The Explore1 drone and Edge1 RTK base station make up Skycatch's High Precision Package.
Based on DJI's customizable Matrice 100 enterprise drone platform, Explore1 drones are equipped with a dual camera system featuring a 20MP high-speed shutter mapping camera and a gimbaled inspection camera. They autonomously take off, fly and land according to a flight path easily programmed using Skycatch's Flight App.
Edge1 base stations are ruggedized computers that contain 256GB of SSD space to store images received wirelessly through dual frequency GNSS receivers. An embedded NVIDIA TX2 AI computing module quickly and automatically processes the drone images into 3D point clouds, 3D meshes, orthomosaics, and digital terrain models (DTM).