Portable Diagnostic Detects Diseases in 15 Minutes
S. Himmelstein | August 09, 2017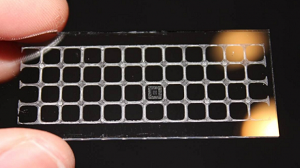 A prototype of the D4 assay. Image credit: Duke University
A new portable diagnostic tool detects disease markers as accurately as enzyme-linked immunosorbent assay (ELISA), the current gold standard, but reduces the wait time for results from days to 15 minutes.
The D4 assay designed at Duke University is produced by inkjet-printing an array of antibodies onto a glass slide with a non-stick polymer coating. The self-contained diagnostic tool detects low levels of antigens—the protein markers of a disease—from a single drop of blood.
Unlike ELISA, the D4 test requires no professional expertise to use or bulky lab equipment for data analysis, making it ideal for deployment in resource-limited areas. Results from the assay can be read with a tabletop scanner or 3D-printed smartphone attachment.
The antibody array is printed on a novel polymer brush coating. When a sample is placed on the slide, the coating prevents non-target proteins from attaching to the surface of the slide, simplifying the task of detecting low levels of target proteins.
Researchers don't need to follow a complicated workflow to clear non-target proteins from their slide, as with the ELISA test. They simply need to wash the slide in a buffer solution to remove any extraneous particles.
The D4 chips are estimated to cost less than $1 and the mobile phone attachment developed at the University of California, Los Angeles, will be less than $30 when produced in bulk.