Lowering the cost of medical diagnostics with 3D printing
S. Himmelstein | May 30, 2019
The enzyme-linked immunosorbent assay (ELISA) has been the gold standard medical diagnostic for detecting and quantifying peptides, proteins, antibodies and hormones. The 96-well plate-based assay technique detects cancer, HIV and other diseases in biological samples but requires complex, costly equipment and reagents. A low-cost alternative devised by University of Connecticut researchers features improved sensitivity and accessibility combined with lower sample and reagent volumes relative to traditional ELISA protocols.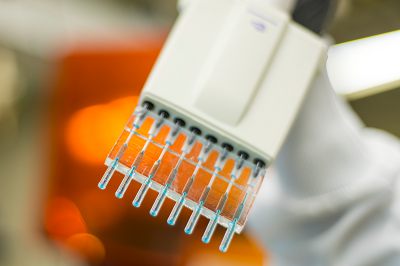 The pipette tip is created with a 3D printer. Source: Sean Flynn/UConn Photo
The simplified system makes use of 3D printing technology to fabricate single-use devices for use with common laboratory pipettes. Pushed onto the end of the pipette, the printed tip immobilizes antibodies and functions as the assay compartment where samples and reagents are moved in and out by pipetting. Each tip serves as one well in the 96-well plate and the assay occurs within the tip itself.
When applied to the analysis of cancer marker bioproteins from prostate cancer patients, the pipette tip diagnostic was demonstrated to be as accurate as the ELISA method. Costs were reduced, as the tests were performed with one-tenth the amount of testing agent typically consumed. Time savings were also considerable: the assay was completed in 90 minutes versus the five to eight hours needed for ELISA tests.
The new device does not require an expensive plate reader to analyze the results. A smartphone camera and app are enough to quantify color changes in the wells. The assay can be performed by those without technical expertise, who would send smartphone images to a technician for analysis. This approach could broaden possibilities for rapid diagnosis in remote or low-resource areas.