Updated diagnostic enables mobile testing for viruses, bacteria and active toxins
S. Himmelstein | January 14, 2019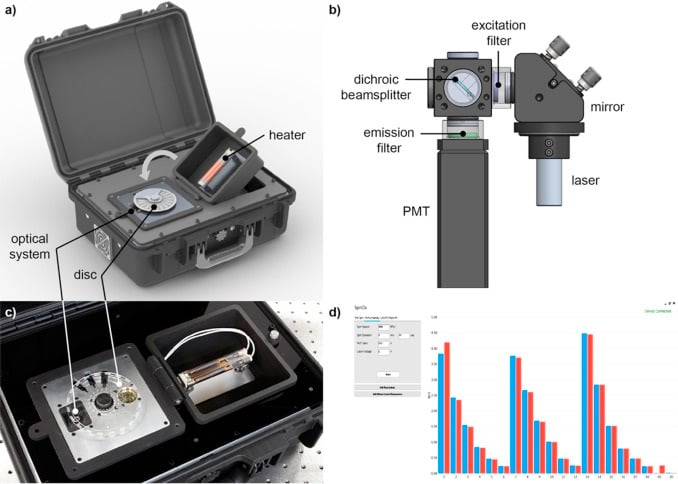 a) Rendering of the platform illustrating the swiveling of the heater into place over the microfluidic disc, which is mounted to an assembly of the motor and optical system. b) Schematic depicting the primary elements of the optical system assembly. c) Photograph showing the instrument in the open position. d) Screenshot of the software interface with input parameters (left) and fluorescence readout (right). Source: SNL
A portable system developed at U.S. Sandia National Laboratories (SNL) for rapid detection of infectious diseases now offers greater diagnostic capability. The SpinDx system initially performed only protein tests, which identify both pathogen-specific proteins and antibodies. With the addition of a new heating element and viral assay and detection scheme, the device can perform protein as well as nucleic acid tests, enabling identification of almost any cause of illness, including viruses, bacteria, toxins or immune system markers of chemical agent exposure.
The nucleic acid tests analyze genetic codes found in any kind of virus, parasite or bacteria and can also detect toxin proteins at the same time and determine whether they are active or not, a factor crucial for tailoring the level of medical response.
SpinDx is a lab-on-a-disc that uses four in plastic CD-like discs with etched microfluidic channels containing beads designed for specific assays. Test samples placed on the discs are spun in a reader device, and a high-speed optical detection component monitors the chemical interaction between the sample and reagent samples by laser-induced fluorescence measurements.
Conventional viral testing via polymerase chain reaction requires heating and cooling a biological sample many times to multiply any viral DNA or RNA to detectable levels. The updated assay and detection scheme in SpinDx uses chemistry that requires the sample be heated only once. In other systems, the loop-mediated isothermal amplification method of heating a sample occurs on a small heating block that creates a single, uniform temperature inside a device. SpinDx uses a tiny infrared heat emitter that hovers at the top of the device, targeting the part of the spinning disc performing the test and nowhere else.
SpinDX demonstrated high sensitivity for the detection of three enterotoxins and three enteric bacteria in independent assessments. These pathogens were identified simultaneously on one disc in under an hour and at clinically relevant sample concentrations.
The research is published in Biosensors and Bioelectronics.