Technology and Processes Behind Steel Production
Gary Kardys | July 20, 2017
The Age of Steel Prevails

Today, we continue to live [figuratively] in the Iron and Steel Age. Electronics pundits and aficionados might suggest that we are in the Silicon Age, but everything surrounding us is made of steel. Our tools, vehicles, machinery, appliances, bridges, dwellings, highways and factories are constructed with or contain steel. Notably, the world production of iron ore has tripled since 2003.
"Base metals such as iron ore, copper and aluminum and nickel—are the lifeblood of global industrial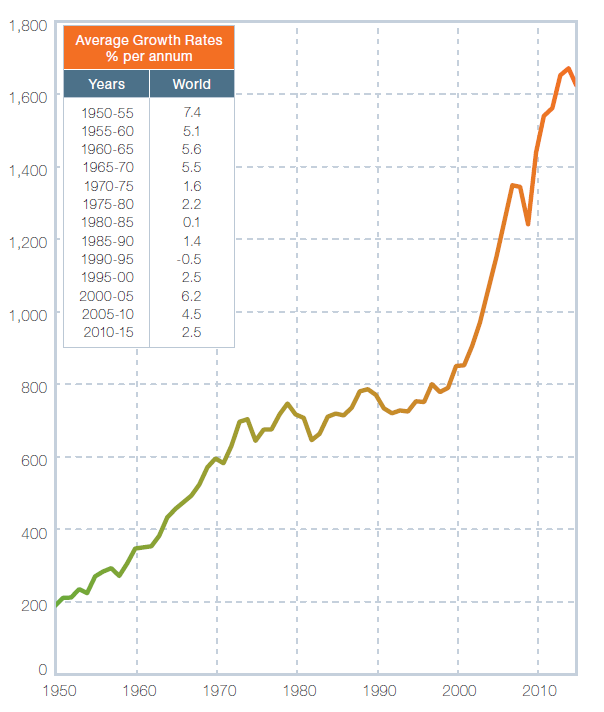 Figure 1: World crude steel production from 1950 to 2015 in millions of tonnes or metric tons. Image credit: worldsteel.org production and construction...", according to a post on the International Monetary Fund (IMF) site. Steel and iron-based alloys are widely-used because of their outstanding properties and versatility. Based on the importance of steel as an industrial and structural material alone, every engineer should have a better understanding of the steel production process.
In 2015, the top ten steel making countries produced 1348.7 million metric tons of steel. Steel manufacturers continue their history of iron and steel making innovation to increase steel properties, performance, consistency and quality. Figure 1 provides a good indication of the exponential growth of steelmaking and the continuing expansion of the Age of Steel. Figure 2 provides the steel production output levels for some of the major steelmakers worldwide.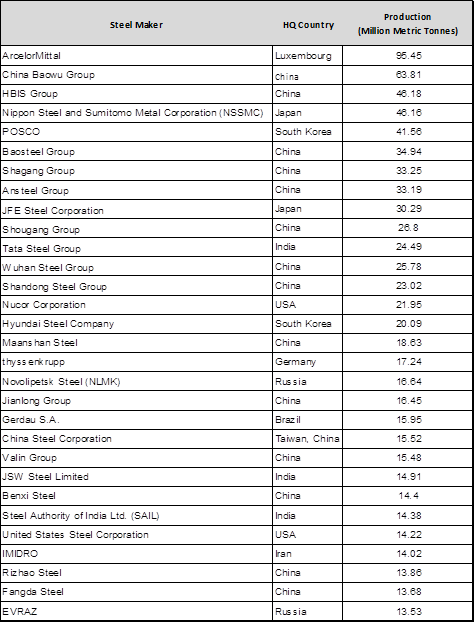 Figure 2: 2016 crude steel production for top 30 steelmaking companies. Image credit: worldsteel.orgGreat strides have been made by the steel industry in reducing greenhouse gas emissions (GHG, waste and recycling scrap steel). In 2016, 650 million metric tons of steel were recycled, which reduces energy consumption, waste and GHG. The steel industry has become very efficient at reducing waste, converting raw materials into 64.4 percent steel, 32.9 percent byproducts and only 2.7 percent waste. The byproducts (slag, hot gases) are used to make fertilizers, electricity (co-gen from waste heat), cement, paving materials, paint and blasting media. By combining the processes from ore reduction to ironmaking to steelmaking to steel finishing, integrated steel plants can reduce energy costs because the need to reheat material between steps can be eliminated.
Steel production consists of three major steps:
Ironmaking—Reduction of iron ore to pig iron or hot metal and sponge iron (DRI/HBI)
Steelmaking—Conversion of hot metal to steel, refining and alloying and continuous casting
Shaping and finishing—Rolling, shaping and treating
Ironmaking—From Ore to Iron
The iron ore to steel process flowline can follow several different paths. Steelmaking begins by the processing of iron ore. The rock containing iron ore is crushed and pulverized to separate the gangue from the ore using magnetic rollers. A coking furnace coal removes impurities and transforms coal into coke, an almost pure form of carbon.
Blast furnaces produce most of the pig iron or hot metal used in the steel industry today from a mixture of iron oxide ore and limestone flux. A mixture or burden of iron ore, limestone flux and coal is heated in a blast furnace to produce molten iron, or pig iron, from which steel is made.
Emerging ironmaking processes such as smelting reduction and direct iron plants are not as widely used, but their adoption is expanding as the technology improves and environmental concerns grow. Hot iron is processed to make crude steel in oxygen converters. Sponge iron, such as direct reduced iron (DRI) and hot briquetted iron (HBI), produced from iron ore in direct reduction plants is converted to crude steel in electric arc furnaces. Steel is 100 percent recyclable, so crude steel is also produced by recycling steel scrap in electric arc furnaces.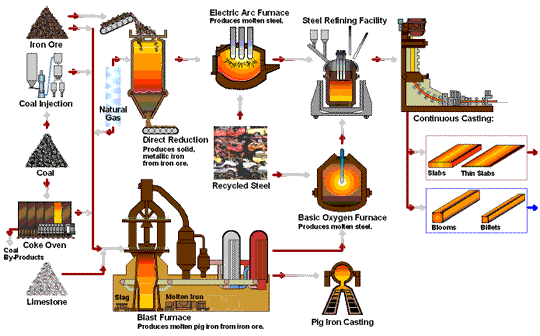 Figure 3: Steelmaking flowlines, raw materials preparation, blast furnacing, iron to converting, refining and casting. Image credit: American Iron and Steel Institute (AISI))Steelmaking—From Iron to Steel

Hot metal has very high carbon content and impurities such as sulfur, phosphorus and silicon that must be reduced to make steel. The carbon content of hot metal is similar to that of a cast or ductile iron material, but is too high for steel. The high sulfur levels would result in hot shortness or cracking at the grain boundary during hot forming. The purification or refining is done in converters such as basic oxygen furnaces (BOFs) and electric arc furnaces that transform hot metal, sponge iron and scrap steel or a combination of these raw materials into steel. Secondary refining and alloying can occur to produce specific steel alloys.

Once the steel melt meets the required specification standards for the alloy, the molten steel needs to be formed into the required finished or semi-finished stock shape. Continuously casting is the main route to convert primary steel products such as slabs, thin slabs, billets or blooms. Some steel is still cast into ingots for subsequent rolling, forging, extrusion, powder production or investment casting.
Steel Shaping and Finishing Processes

Cast ingots, or continuously cast slabs, are processed into a wide range of finished steel products through hot and cold rolling processes. Slabs are rolled to produce steel plate, strip and sheet. Girders, beams and other structural shapes are typically produced from blooms. Billets are formed into bars and rods or pierced to form steel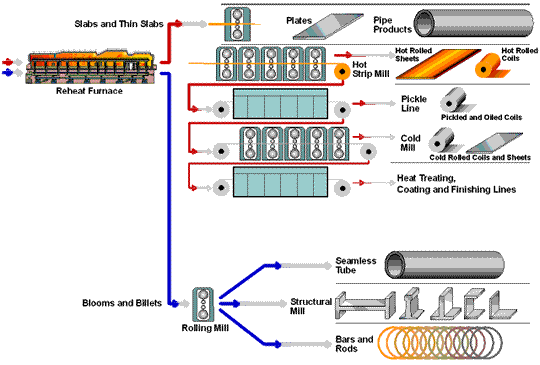 Figure 4: Steel finishing flowlines include rolling, forming, heat treating and coating process units to produce semi-finished and finished steel shapes from ingots, slabs, billets and blooms. Image credit: American Iron and Steel Institute (AISI)) pipe. In the hot rolling process, the steel slab raised to a red heat (over 1,700° F) in a reheat furnace and then squeezed between two steel rolls. The thermomechanical action of the hot rolling process refines the microstructure, breaks up inclusions and eliminates any internal porosity. The grain refinement occurs because the process happens above steel's recrystallization temperature. The good yield strength, ductility and weldability of hot rolled steels make them suitable for many structural applications. Hot rolling is often pickled to remove the dark oxide surface scale and oiled or galvanized to protect against corrosion.
Figure 5: Red hot steel during the hot rolling process. Image credit: Bonpertius (left), Minmetals (right)Hot rolled steels can be passed through additional cold rolling to produce thinner steel sheets and strip. The cold rolling process cold works or tempers steel, which increases strength and hardness. The cold rolling process produces steel product with a dimensional tolerance and lower surface finish (Ra). Subsequent annealing can be applied to relieve stress, recrystallize or refine the grain structure depending on the specific temperatures applied.
Cold-rolled steels have superior forming properties, paintability and weldability. Cold-rolled materials have outstanding surface smoothness and dimensional tolerance control. Specialty cold rolling mills such as Ulbrich Stainless Steels & Special Metals, Inc. amazingly cold rolls stainless steel down to a thickness of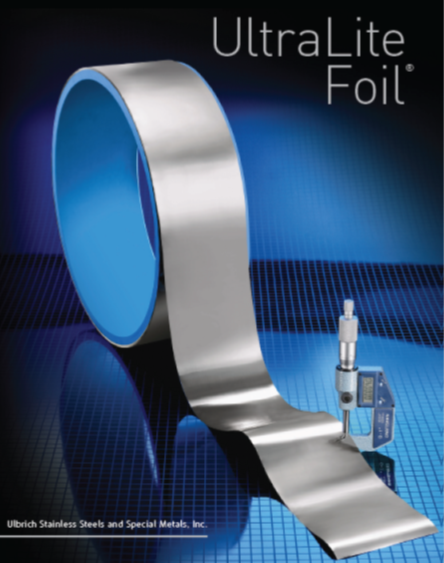 Figure 6: Cold roll stainless steel UltraLite® foil with a thickness down to 0.00039 inches (0.01 mm). Image credit: Ulbrich0.00039 inches (0.01 mm) for specialty applications in the automotive, solar, chemical, medical, pharmaceutical, heat treating (tool wrap), foil tape, food, packaging, appliance and construction industries.
In some applications, additional finishing operations are used to protect steels such as pickling and oiling, painting or galvanizing. Stainless does not require any special protective coatings because a coherent chromium oxide film provides corrosion resistance and regenerates after the cutting. Steel sheets are also textured or patterned for specific applications.
Once the high-quality steel stock shapes or roll goods are produced, steel is converted into the widths and lengths that manufacturing customers need using slitting and cut-to-length processes. The customers create parts using processes such as sheet metal forming, stamping, forging, extrusion, investment casting, machining and grinding. Finally, the appliances, automobiles and many other products we use every day are assembled from steel components using fasteners, welding or adhesive bonding.