Ironmaking 101 – From Ore to Iron with Smelting and Direct Iron Reduction
Gary Kardys | October 17, 2017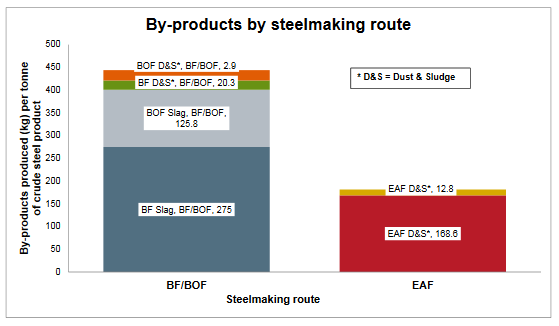 Figure 1: Steelmaking byproducts for blast furnace (BF), basic oxygen furnace (BOF) and electric arc furnace (EAF) processes. Source: World Steel Association (worldsteel) The first step in the production of steel or cast iron alloys is the reduction of iron ore—which contains iron oxide and gangue or mineral impurities—to unrefined, reduced iron form. Blast furnaces and reduction smelters produce "hot metal" or pig iron. Blast furnaces also produce byproducts such as slag, gases, dust and sludges. The iron and steel industry currently sells the slag byproduct for use as an aggregate, filler or raw material in ready-mixed concrete, concrete products, asphaltic concrete, roadway materials, construction fill, clinker, railroad ballast, roofing, mineral wool insulation and soil conditioners. The generation, storage and transportation of byproducts increases iron- and steel-making cost and energy consumption, so the iron and steel industry is constantly developing processes to reduce or eliminate byproduct generation. Direct iron reduction processes produce a form of sponge iron called direct reduced iron (DRI). Smelting reduction and direct iron reduction can reduce energy input, lower greenhouse gas emissions and minimize slag byproduct generation, resulting in overall cost, productivity and life cycle enhancements.
Smelting Reduction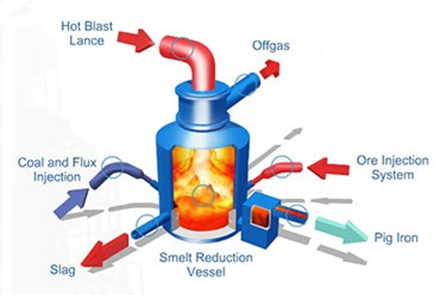 Figure 2: The smelt reduction vessel (SRV) is the core technology component of the Hismelt process. Source: RioTintoWhile years of ironmaking technology innovations have optimized blast furnace productivity, two alternative processes—smelting reduction and direct iron reduction— are growing in adoption. The alternative processes are touted as more environmentally friendly because they reduce gas emissions and energy consumption. The newer processes can use coal instead of coke and do not require nitrogen injection. The elimination of nitrogen prevents the generation and release of nitrous oxide (NO) gas into the environment.
In the smelting reduction process, pelletized iron oxide ore or fine ore powders are pre-reduced in a fluidized bed or reduction shaft. The reduced iron along with coal and lime is fed to a gasifier-melter, which completes the reduction process and produces pig iron or hot metal of the same quality as a blast furnace. The reducing gases generated by the gasifier-melter are recycled to reduce the iron ore in the pre-reduction step. Primetals (Formerly Siemens AI) Corex, POSCO Finex and RioTinto Hismet processes are examples of smelting reduction processes. The Hismelt process employs a single smelt reduction vessel (SRV) where iron oxide fines are injected deep into hot metal melt, which instantly reduces the ore to produce iron and carbon monoxide. Flux and coal are also injected into the bath near the bottom, which enables carbon replenishment and captures impurities (silica, etc.).
Direct Iron Reduction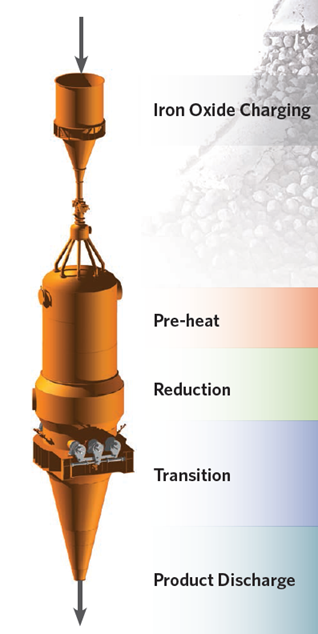 Figure 3: Direct iron reduction shaft furnace Source: MIDREX®Direct iron reduction processes reduce iron ore to sponge iron without a molten metal step. Direct iron reduction or sponge iron production was practiced in ancient times. The sponge iron was then hammered to remove impurities and produce iron weapons and tools. The low cost of natural gas has made the direct reduced iron (DRI) process more attractive to steelmakers. The MIDREX® process is currently the most widely implemented DRI technology. MIDREX claims their technology is used in about 60% of the direct iron reduction plants.
The overall reduction reactions in a DRI shaft furnace are:
Fe2O3(s) + 3H2(g) → 4Fe(s) + 3H2O(g)
Fe2O3(s) + 3CO(g) → 4Fe(s) + 3CO2(g)
Water vapor and carbon dioxide are byproducts of the DRI process. DRI can be very attractive in regions or countries lacking coal reserves, but with plentiful iron ore and natural gas resources to fuel the process. For example, Northern Australia has abundant iron ore and natural gas resources. Australia ranks second worldwide in iron ore production. It is also the world's third-largest producer of LNG and is forecast to be the world leader by 2020. Reduction of iron ore to reduced iron form adds value and provides more compact products, which reduces shipping costs.
The specific iron content of the direct reduced iron is a function of the iron content of the iron ore. Depending on the quality of the raw ore, direct-reduced contains about 90 to 94 percent iron, which is equivalent to pig iron from a blast furnace. The high-iron-content DRI products are excellent feedstocks for the electric furnaces used by mini mills, allowing them to use lower grades of scrap for the rest of the charge or to produce higher grades of steel.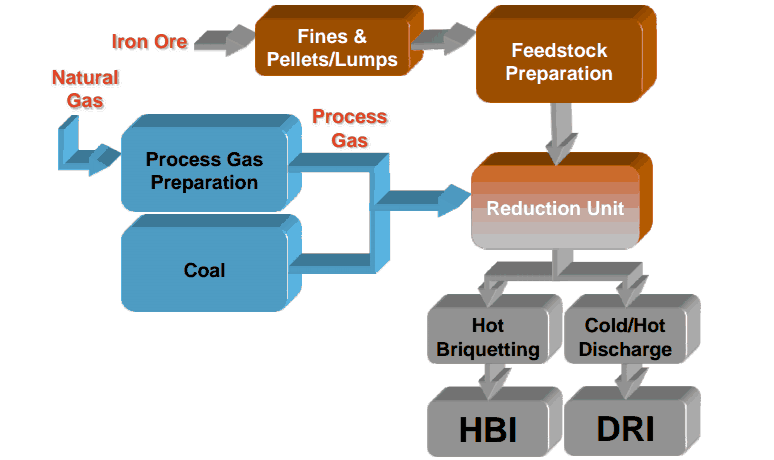 Figure 4: The direct reduced iron (DRI) process produces sponge iron in the form of hot briquetted iron (HBI) pellets and hot or cold direct reduced iron (DRI or HDRI). Source: International Iron Metallics Association (IIMA)The porous cold or hot direct reduced iron can be transported immediately to an electric arc furnace for refinement into steel alloys. However, the reduced "sponge iron" from a DRI process is porous and will oxidize or rust if shipped or stored in the porous form. Sponge iron is pyrophoric and will burn if ignited. HDRI can be compacted and cooled to produce hot-briquetted iron (HBI) pellets, which can be easily handled, shipped or stored. The DRI sponge iron quality and chemistry is dependent on iron ore quality. Unlike blast furnace pig iron, the siliceous gangue in the iron ore remains in reduced iron sponge and needs to be removed in the steel-making process.
Extractive metallurgists and engineers will continue to invent new ironmaking processes to provide more environmentally friendly, energy efficient and lower-cost iron alloys with improved quality and material properties. Ironmaking is a critical step in producing high performance steel because high-quality raw materials reduce the time and energy to purify the iron to steel. On the other hand, newer smelting and direct iron reduction processes allow new, lower cost iron ore sources to be utilized to reduce steel manufacturing costs. Steelmaking feedstocks containing gangue impurities can also be easily removed in modern electric arc furnaces. The next step on the road from iron ore mineral to finished steel products is the refining and alloying of hot metal or reduced iron to produce steel alloys.