High Performance Slag Materials – A Steel Industry Byproduct
Gary Kardys | January 25, 2018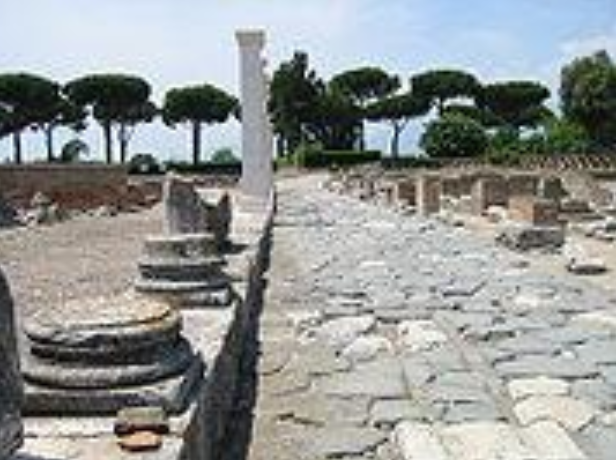 Figure 1. Slag aggregate was used to build the Roman Appian Way over 2000 years ago. Source: National Slag AssociationEvery day you probably use a steel industry byproduct, slag, without realizing it. Slag is a common construction material in the building of roadways, bridges and buildings. The ancient Romans used slag to build the Appian Way 2000 years ago. Over 20,000,000 tons of slag are produced and marketed every year.
Slag Production
Slag is not a waste product, but rather an intentional byproduct or co-product of ironmaking and steelmaking processes. The molten slag surface layer that forms on top of molten pig iron or hot metal removes impurities generated during the reduction of metal ores to iron. A limestone flux is added into the blast furnance, which decomposes to lime during heating or: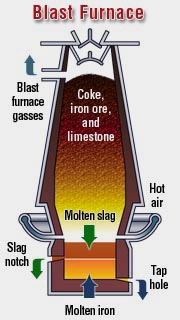 Figure 2. Production of blast furnace slag byproduct in the ironmaking process. Source: National Slag AssociationCaCO3(s) → CaO(s) + CO2(g)
Lime removes more of the sulfur and silicon, which were not removed during mineral processing. The lime reacts with the excess silicates or iron sulfides, which then become part of the molten slag:
CaO(S) + SiO2(S) → Ca2SiO4(L)
CaO(S) + FeS(S) → CaS(S) + FeO(S)
CaO(S) + Al2O3(S) → Ca(AlO2)2(L)
The liquid iron and molten slag flows to the bottom of the blast furnace while the calcium silicate slag floats on top of the molten iron and is drawn off separately. The molten iron is tapped off the bottom of the blast furnace and cast into hot metal or pig iron ingots.
Some of the slag tapped off the blast furnace is reused in the iron reduction process as a flux feed after entrained metal impurities are removed. The entrained metal, particularly in steel slag, is routinely recovered during slag processing for return to the furnaces. The recovered iron can be an important revenue source for the slag processors. After iron removal, the slags are processed to produce different slag or aggregate types.
Slag Types & Compositions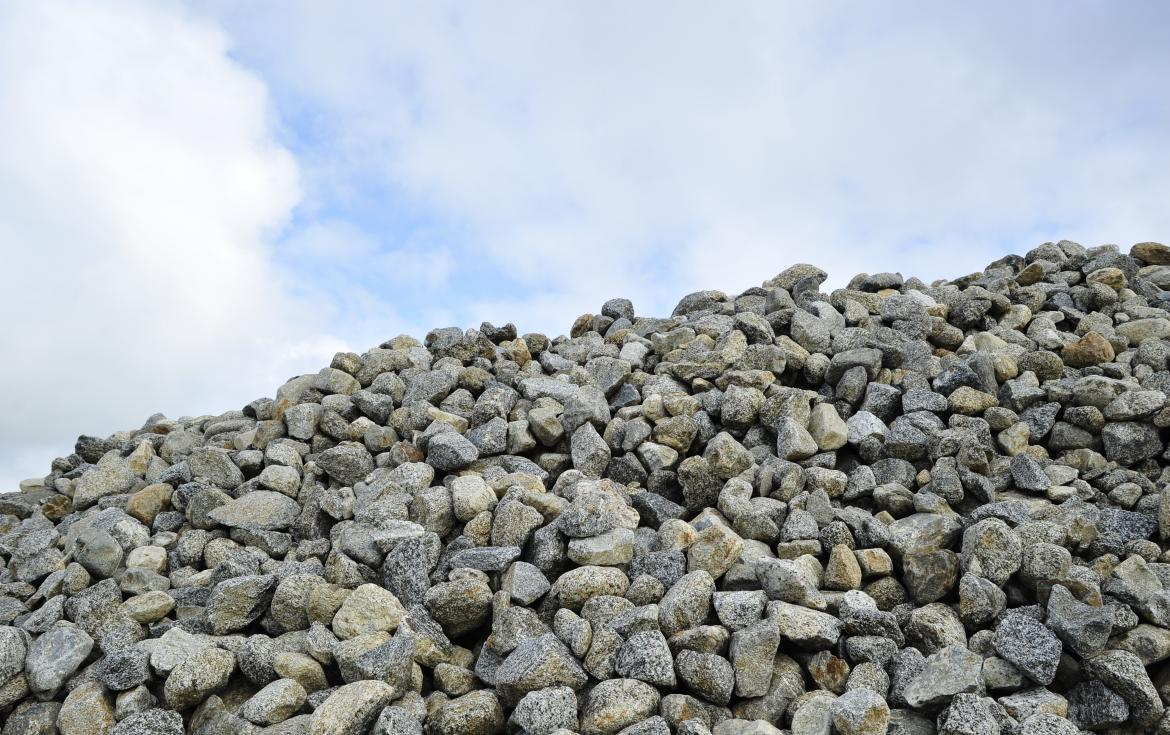 Figure 3. Slag aggregate pile. Source: National Slag Association Compositionally, there are two main types of ferrous-based slags – steel slag and blast furnace slag (BFS).

Steel slag, such as electric arc furnace slag (EAFS) or steel furnace slag (SFS), results from steelmaking processes. EAFS or steel slags are always air-cooled. Steel slag consists mainly of calcium silicate and calcium aluminum ferrites with varying amounts of aluminum oxide, magnesium oxide, iron oxide and sulfur. Steel slags can contain some free calcium oxide and magnesium oxide, which is expansive and precludes the use as cement aggregates. Steel slag is crushed to produce hard, dense, blocky particles with a maximum size of one inch. Steel slag is an ideal material for structural fill and road base applications.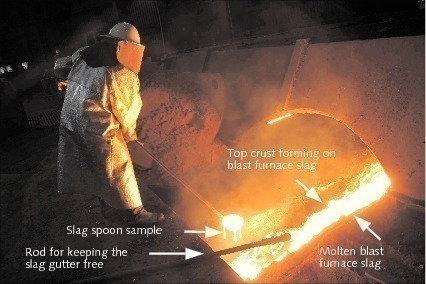 Figure 4. Operator sampling and draining off iron blast furnace slag. Source: ZKG InternationalBFS comes from ironmaking blast furnaces. BFS consists mainly of silicates and aluminum silicates of lime (calcium oxide) and other bases. BFSs are air and water cooled (granulated). Expanded and pelletized slags are lighter weight or more porous versions of granulated slag.
Air-cooled BFS has coarse angular, cubical particles with surface porosity. Air-cooled BFS has a maximum size of 1.5 in. The water cooling or quenching process produces a glassy, granulated slag composed of sand-sized particles about 0.75 in. and finer in size.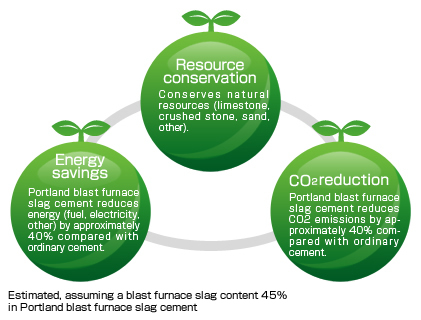 Figure 5. Energy saving and environmental benefits of slag in the cement industry. Source: Nippon Slag AssociationGranulated slag is cementitious and sets when mixed with water for a concrete-like mass. Granulated BFS ground to a fine powder is called ground granulated BFS (GGBFS). GGBFS can be used as a direct replacement for Portland cement. Concrete made with GGBFS has higher compressive and flexural strengths compared to a pure Portland cement-based concrete due to higher proportions of strength-enhancing calcium silicate hydrates (CSH). GGBFS cement provides protection against both sulfate attack and chloride attack and ingress, which reduces the risk of rebar reinforcement corrosion. GGBS cement sets more slowly than ordinary Portland cement, but GGBS cement also continues to strengthen over a longer time period. Slag use in the cement industry saves energy, conserves mineral resources and reduces carbon dioxide (CO2) emissions.
Expanded or foamed BFS is produced by quenching with a water jet process to increase the porosity or cellularity of the slag. Expanded BFS is crushed to form a lightweight concrete aggregate. Pelletized slag is another lightweight slag made using a slag pelletizer or air granulator. Molten slag is rapidly chilled and expanded with water and air in the rotating drum of a slag pelletizer. Pelletized expanded slag has significant production and usage advantages when compared to conventional expanded vesicular slag. Slag pelletizers are better for the environment because they reduce the amount of hydrogen sulfide emissions compared to older processes. The slag pelletization process can be tuned to enhance pelletized slag for aggregate and slag cement applications.
Slag Applications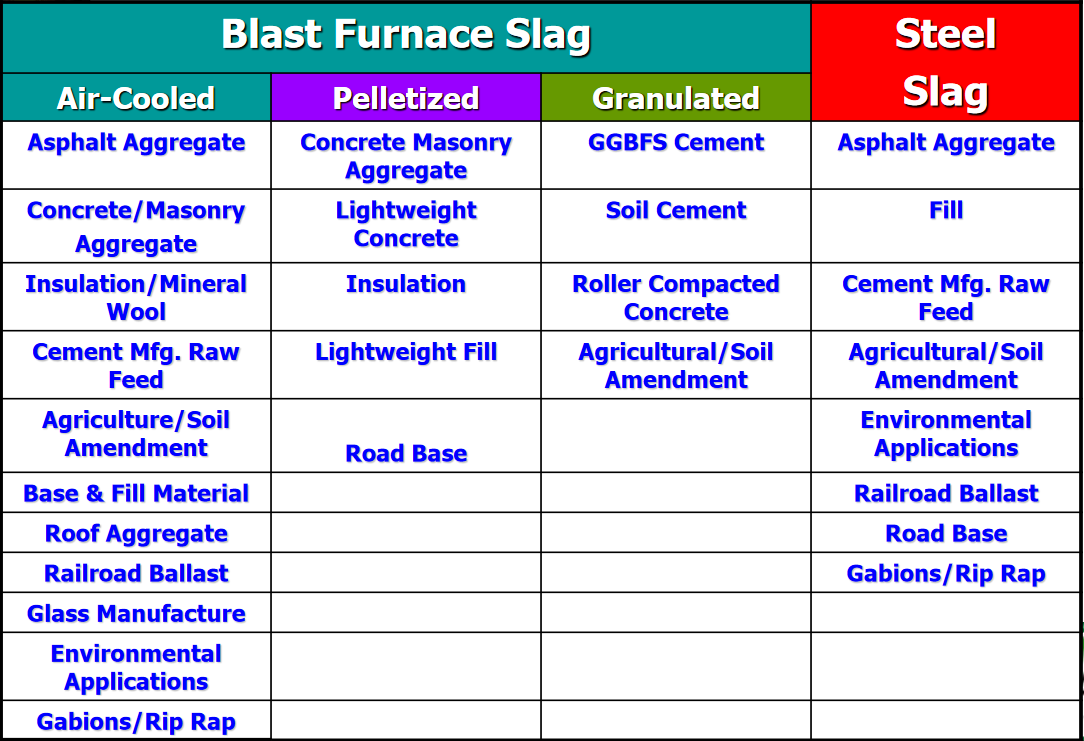 Figure 6. Types of blast furnace slag and steel slag and their applications. Source: National Slag AssociationThe durability, hardness and low-cost of slag materials results in a variety of end uses such as slag cement, soil stabilizer, lightweight concrete aggregate, road base construction material, roofing granules and abrasive blast media.
Agricultural liming agent and fertilizer – Slags are useful as fertilizers and liming agents. Slags contain free lime or calcium oxide, making them useful as liming agents and as alkaline additives to reduce soil acidity. BFSs are used as rice cultivation fertilizers because they contain calcium oxide, silicon dioxide and magnesium oxide. Steelmaking slags contain calcium oxide, silicon dioxide, magnesium oxide, iron oxide, manganese oxide and phosphorus pentoxide, which are useful nutrients for dry field farming and pastures.
Asphalt paving - Steel slag has evolved as an ideal aggregate in hot mix asphalt (HMA) surface mixture applications. Steel slag increases longevity, improves horizontal shear resistance and enhances friction. Where friction is an important safety consideration in pavement design for the motoring public, properties of steel slag qualify it as a premier surface aggregate for skid resistant applications. Steel slag has earned a reputation as being a superior surface aggregate in Superpave roadway mixes designed for severe traffic and axle-loading applications.
Back fill and construction fill – Slags are used as fills in construction sites or between masonry walls. Expanded and pelletized slags provide lightweight or low density fills.
Blast media – Dense air-cooled slag can be used as an abrasive grit or blast cleaning medium to remove rust, dirt and various forms of surface contamination from a broad spectrum of steel or foundry products. The sharp angular and dense crushed slag particles are ideal for abrading a textured surface on metal, which enhances bond with paint, enamel, rubber or other coatings.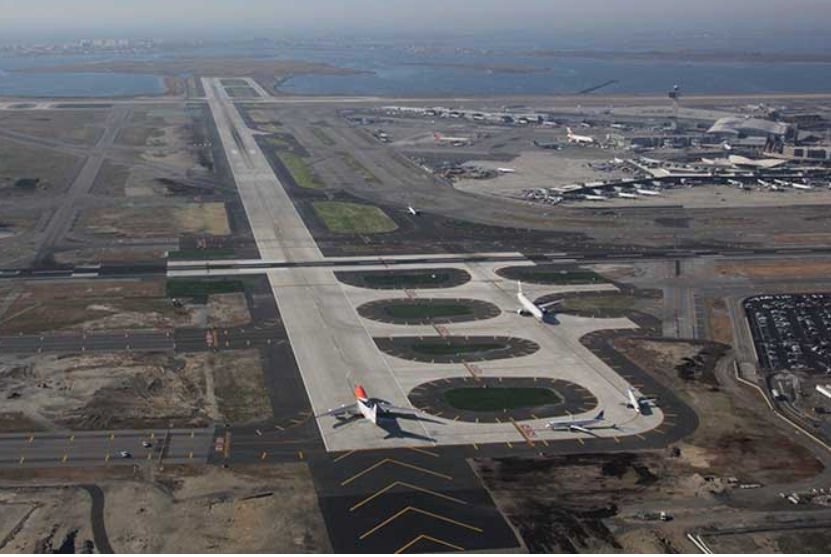 Figure 7. Slag cement concrete used in reconstruction of JFK airport runway. Source: Slag Cement AssociationBridges, highways and runways - Slag cements are used in the construction of airport runways, highways and bridges because they minimize thermal stress generation in mass concrete, mitigate alkali-silica reaction (ASR) and help reduce concrete permeability. The slag cement concrete provides a most consistent construction material compared to cements with fly ash or other cementitious additives.
Cement raw material –Substituting steel slags for limestone and other mineral raw materials (rotary kiln feed) in the cement (clinker) manufacturing process can reduce emissions and save energy. Steel slag has already been calcined during steelmaking, so the preheater and pre-calciner process steps can be bypassed.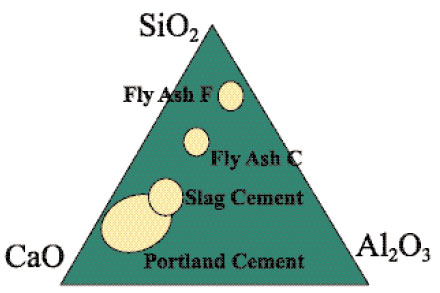 Figure 8. CaO-SiO2-Al2O3 ternary diagram shows how the composittion of slag cement compares to Portland cement and fly ash. Source: Slag Cement Association.Cement substitutes and additives – GGBFS can be used as a substitute for Portland cement. GGBFS and pelletized slag can be used as supplementary cementitious materials (SCM) or cementitious additives in blended cements and concrete to enhance concrete performance. Slags are highly effective alternatives to SCMs such as fly ash, metakaolin, fumed silica and volcanic ash pozzolans. The Slag Cement Association provides additional information on various slag cement products. Slag is a more uniform product compared to fly ash, which varies between power plants. Only 20 to 30 percent fly ash additions can be used in cement. Higher percentages of slag can be used because slag's composition is similar to Portland cement's chemistry. GGBFS concrete mixes usually contain 40 to 50 percent GGBFS. Slag can replace 80 percent of the Portland cement in mass concrete and special applications. Slag cement has a lighter color compared to Portland cements and improved workability, placebility and finishability.
Chip and seal - Chip and seal is a low cost method for resurfacing rural or low traffic roadways or driveways. A single or double application of bituminous surface treatment with one or more layers of fine aggregate (slag, sand, gravel) applied to existing pavement surfaces achieves skid resistance and improves driving safety. Chip and seal is also known as chipseal, seal chip, macadam or aggregate seal coating.
Concrete aggregate – Air-cooled steel and BFSs make excellent aggregate material for additions to concrete mixes. Expanded and pelletized slags have a high porosity or cellular nature, which makes these materials excellent lightweight aggregates in concrete and cement.
Glass – Slag can be used as a raw material for glass manufacture.
Ice and friction control – Slag particles are deposited onto icy roads to increase friction and reduce slipping.
Rock and slag wool – Slags can be used as a raw material in the manufacture of rock or slag wool. Slag has a composition similar to basalt, which is used to make rock wool. The slag is melted and then the molten slag is glass blown or spun to form slag glass wool fibers for insulation applications.
Roofing aggregate – Slag particles are useful as roofing aggregate particles on asphalt shingles. The inertness and high durability of slag make the material an ideal weather resistant aggregate for shingle applications. Slags are highly resistant to deterioration from freezing and thawing cycles.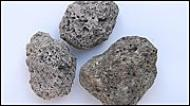 Figure 9. Extremely coarse "rip rap" slag is used for soil stabilization applications. Source: National Slag AssociationSoil stabilizer/road base – The angularity and interlocking nature of slag particles make the material an ideal soil stabilizer, rip rap, gabion fill and road base material. Slag stabilizers have a high angle of shearing resistance. The free lime content in slags also provides a weak cementing action.
Wastewater treatment - The aluminum, iron oxides and calcium base in steel slags reacts and neutralizes low pH or acidic waste water. Slags are also being used to eliminate nitrogen and phosphorus release into the environment due to water releases from farms and aquaculture plants.
Future Applications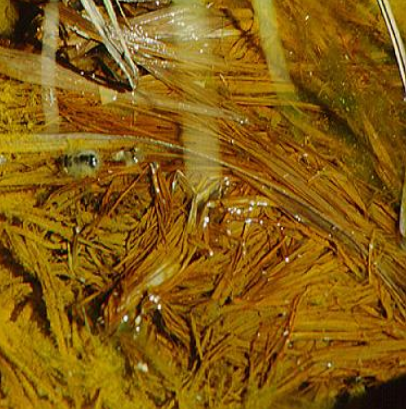 Figure 10. Effects of acid mine drainage on the environment: smother aquatic flora and fuana, lower pH and coats streams with "yellow boy" orange sludge. Source: National Slag AssociationNew applications are under development today that will take advantage of the many useful properties of blast furnace and steel slags.
Researchers are exploring the use of slag cement concrete foundations and marine blocks as a base to restore coral reefs and as an iron source to replenish depleted seaweed beds along coastal regions (see New Applications for Iron and Steel Slag - NKK Technical Report No. 87 and Nippon Steel Technical Report No. 109). Hydrated slag matrixes are an excellent base for attached marine life such as seaweed and shellfish because they clean the oceans and absorb CO2.
Slags might be able to mitigate the acid mine drainage (AMD), which is a byproduct of the mining process that poses a serious threat to groundwater and aquatic life, and to humans using these water resources. Acid mine damage AMD forms when sulfur-bearing minerals form sulfuric acid when they are exposed to water and air during the mining process. Heavy metals leached from rocks can dissolve with the acid to create a highly toxic runoff. Some current methods include installation of a treatment plant and neutralization with lime chemicals. Steel slags yield several hundred times more alkalinity per equal weight compared to limestone. Slags could be a good remediation material due to their very high pH values (11), excellent alkalizing ability, abundant supply and low cost ($10 to $15 per ton). The Utilization of Steel Slag to Remediate Acid Mine Drainage presentation by the National Slag Association provides more details.