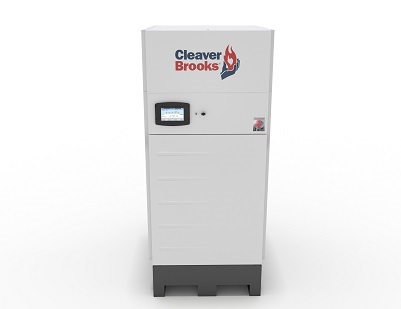 Image credit: Cleaver-Brooks
Cleaver-Brooks ClearFire®-CE (CFC-E) fully condensing hydronic boiler is a fully assembled, high-mass firetube condensing boiler with a large-water-volume pressure vessel. The boiler achieves a low-pressure drop, reducing pumping energy with no minimum flow requirements due to the high mass design.
The pressure vessel is thermal shock proof and capable of high-delta-T system designs that are used to maximize condensing and reduce flow rates. It features a true counterflow-arrangement heat exchanger and duplex stainless steel combustion chamber, tubes and tubesheet.
The compact design produces 750 to 2,000 MBTU and is ideal for retrofit applications. The ClearFire®-CE also provides the reliability and longevity that customers have come to expect from Cleaver-Brooks.