World's first fully wetted, refractory-free vertical tubeless boiler
Shawn Martin | February 11, 2019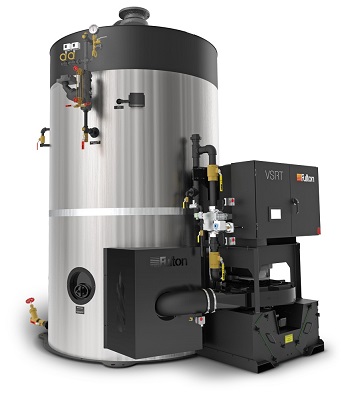 Source: The Fulton Companies
The Fulton Companies introduced a fully wetted, refractory-free vertical tubeless boiler that achieves efficiencies as great as 86% without the use of a gas economizer.
The VSRT-250 vertical spiral rib tubeless boiler provides a reliable supply of clean steam, and Fulton said it is the world's first refractory-free vertical tubeless boiler designed with a fully wetted pressure vessel.
The VRST-250 is a four pass vertical tubeless boiler with a final stage finned flue gas passage that contributes to its high efficiency. It also provides 250 boiler horsepower (BHP) providing the benefits of a vertical tubeless steam boiler to customers with larger steam load requirements.
The VRST-250 has a compact vertical footprint for ease of installation. It also features a 14 in flue gas connection, a 20 parts per million (ppm) low NOx high turndown burner and can be installed without any external ASME piping required. A 9 ppm low NOx burner is also available, which also operates without flue gas recirculation.
The new design provides for industry-leading efficiencies with lower operating cost and a lower total cost of ownership. The absence of a gas economizer eliminates additional maintenance requirements. It also features a rugged design with minimal 3/8 in steel thickness.