Dry Fuel Storage Program Sets New Benchmark
S. Himmelstein | July 12, 2017
A dry fuel storage system installation has been completed at the Kewaunee Nuclear Power Station (Carlton, WI), four years after the Dominion Energy Kewaunee plant was permanently closed. Placement of the 24th and final MAGNASTOR® dry fuel storage system was placed on the Independent Spent Fuel Storage Installation (ISFSI) pad by NAC International Inc. (Norcross, GA) in June 2017.
The project involved the packaging of 887 assemblies of used fuel remaining at the plant into the casks. A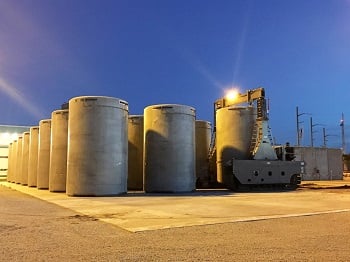 24 MAGNASTOR Systems on the ISFSI Pad. Image credit: NAC Internationallicensed loading pattern allowed an accelerated loading schedule, with used fuel cooling times as low as 2.5 years. Pool-to-pad loading services were completed in 23 weeks, with loading durations averaging 2.3 days per cask system.
The entire used fuel inventory from nearly four decades of electricity generation at Kewaunee is represented by the 24 MAGNASTOR® systems and 14 legacy Nuhoms systems. Nuhoms is a horizontal storage system supplied by Areva.
MAGNASTOR® is a widely deployed ultra-high capacity (37PWR/87BWR) canister system installed at commercial nuclear power plants. To date, more than 110 MAGNASTOR® systems have been loaded and are in service storing more than 1,800 tons of spent fuel.