Video: Nuclear waste storage container integrity testing underway
S. Himmelstein | December 20, 2020
Research is underway at U.S. Sandia National Laboratories to provide the data needed by the nuclear power sector to validate and guide technology for long-term management of waste storage canisters.
Three stainless steel storage canisters are being equipped with heaters and instrumentation to simulate nuclear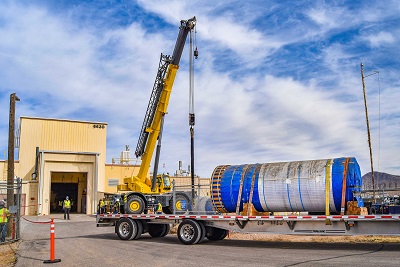 The canisters will be used to assess the potential for cracks caused by salt- and stress-induced corrosion. Source: Randy Montoya, U.S. Sandia National Laboratorieswaste and determine salt accumulation with time. Future tests will examine cracking mechanisms associated with salt- and stress-induced corrosion.
Without a permanent geologic repository, spent fuel is currently stored at commercial nuclear power plants in storage pools and dry storage canisters designed with a service life of a few decades. The study will assess the impacts of salt-induced corrosion on the integrity of welds in the 22.5 ton, 16.5 ft long canisters.
Decay heat from the 32 spent fuel assemblies typically encased in these structures will be simulated with 32 electrical heaters. After thermocouples and other sensors are installed, the canisters will be relocated to a storage pad at a spent fuel storage installation on the West Coast for exposure to the conditions affecting in-use canisters. The evolution of chloride-bearing salts and other surface deposits, as well as the potential destructive influence of decay heat, will be monitored for three to 10 years or longer.